With gas at nearly $3.00/gallon, it's easy to see why people are giving up the luxury of beefed-up power for the added fuel efficiency of the best 4-cylinder cars. They're typically easier to maintain, leave more space for interior legroom and leave a few extra coins in your pocket come fill-up time. They also use less parts compared to bigger engines which will mean a less costly repair bill for routine maintenance items such as spark plugs and wires, and even bigger repair items like head gaskets. However, since nobody enjoys replacing the bigger items, it's important to find the most reliable and efficient vehicles available. Those would be the gems listed below: the best 4-cylinder cars.
1. 2009-2011 Mazda 3          New Model MSRP: $15,345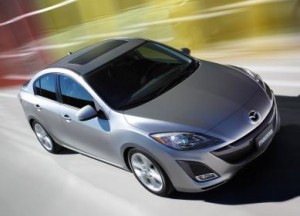 Fuel efficiency (24/33 mpg city/highway), safety and a sleek, elegant design, the Mazda 3 has it all. Not only does it possess all these features, it maintains the added features and tech options that make the price seem like a steal. "The smiley front end has garnered mixed reactions, but at least there's a rational explanation for it – Mazda designed it to maximize aerodynamics for increased gas mileage and decreased wind noise." It has a performance-oriented chassis which allows for very tight handling and a smooth ride even over bumpy, twisting surfaces. A more powerful 2.5L 4-cylinder engine is available as an upgrade to the standard 2.0L which only adds to its appeal. (www.edmunds.com, www.consumerreports.org, www.kbb.com)
2. 2008-2011 Ford Fiesta          New Model MSRP: $13,320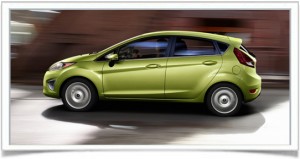 Judged only on price alone, buyers may fear they're not getting much in the way of quality with the Fiesta. In reality, it is one of the best bargains of any vehicle being made. The 1.6L engine is deceptively quick and incredibly smooth. It also possesses a phenomenal fuel economy at 30/40mpg for the automatic version. Despite being a smaller car, it remains roomy in both front and back seats as well as competitive in trunk space at 12.8 cubic feet. "There's even a Super Fuel Economy package that optimizes fuel mileage via aerodynamic tweaks (blocked-out lower grille, underbody panels), lightweight wheels and special tires." All in all, it is one of the most highly-touted sedans on the road. (www.edmunds.com, www.consumerreports.org)
3. 2009-2011 Audi A4          New Model MSRP: $31,450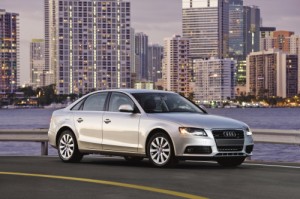 The luxury car price is really the only thing keeping the A4 this low on the list. On the other hand, you are definitely getting what you pay for with this one. The turbocharged 2.0L engine is one of the most powerful four-cylinder engines in any car, generating 211 horsepower and hitting 60 mph from a dead stop in only 6.5 seconds. Fuel economy remains competitive, despite the added power, at 23/30 mpg. It also sports a perfect safety rating in all categories and an unbelievable 16.9 cubic feet of cargo space in the trunk. "One thing that hasn't changed about the A4 is its precise and balanced handling, which combines with its slick styling and upscale cabin to provide an undeniably premium driving experience." (www.edmunds.com, www.kbb.com)
4. 2008-2011 Mitsubishi Lancer Evolution          New Model MSRP: $33,590
Maybe it's the All-Wheel Drive, or it could be the long list of features, or it may be the extremely peppy 2.0L turbocharged engine; whatever the reason, the Lancer Evolution is just an all-around fun vehicle to drive. With considerable power being sent to all four wheels, it will hit 60 mph in a jaw-dropping 4.9 seconds. "The Evolution hasn't been crash tested; however, in government tests the regular Lancer scored a top-rated five stars for the driver and four stars for the front passenger in frontal impact protection." It does come with a rather stiff ride compared to competitors and the elevated price tag may make other options more attractive. Still, it's a very sound choice. (www.edmunds.com, www.consumerreports.org)
Here's a list of all 4-cylinder cars.
Search used cars for sale and find the best deals near you at iSeeCars.com.
To get a FREE iSeeCars VIN Report for a car, click here.