Nobody likes being stuck in the snow. There's nothing worse than freezing till your teeth chatter while trying to push a two-ton vehicle on a slippery slope of ice. That's the beauty of four-wheel drive. No more worries over inclement weather, no more problems with rear wheels being stuck in mud or on ice. Since the SUV has become a typical family vehicle, what better vehicle to equip with 4×4? After all, if there's anyone you'd wish to not have stranded in horrible weather, it's your family. Thankfully, there are several viable options at SUV equipped with the four-wheel drive option. But which are the best 4×4 SUVs to fit your wallet and your piece of mind? Which ones will get you through the tough times without leaving you at the repair shop every week? Let's take a look at what all the major sources have to say are the best 4×4 SUVs.
"Plentiful features, both standard and optional, a powerful 5.6L V8 and great handling for its size," make the QX56 the best available option as a 4×4 SUV. It possesses the same safety features and amenities that you'd find in a luxury car as well as an array of luxurious interior gadgets. The rear seats fold down to nearly perfectly flat, allowing for a greater hauling capacity, and the 4WD option improves the towing capacity to up to 8,500 lbs. (www.edmunds.com)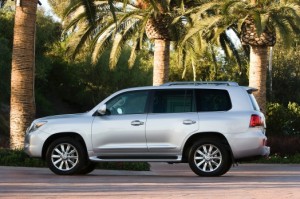 "The Lexus LX 570 offers a remarkable combination of around-town civility and off-road capability. Add a powerful V8 and a luxurious eight-passenger cabin and you have an upscale SUV with few equals." The third-row seat is still slightly cramped but the advanced off-road capabilities more than make up for the lack of interior space. The LX570 sports one of the beefiest engines in its class with the 5.7L V8 pumping out 383 horsepower. As always, the interior is Lexus luxurious and has a list of available options that could drive the price out of range, so be careful. (www.edmunds.com, www.consumerreports.org)
"The 2010 GMC Yukon continues as a leading choice for a traditional large SUV thanks to its handsome styling,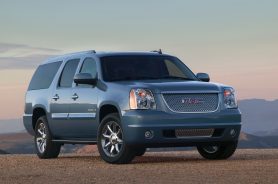 comfortable cabin and strong towing and hauling capabilities." The 4WD version comes with a monstrous 6.2L V8 engine that can push towing capacity to 8,400 lbs. The ride is notably quieter than several in its class but the lack of a folding rear seat brings hauling capacity way down. It also exhibits some play in its steering and doesn't feel comfortable in tight traffic. (www.edmunds.com, www.consumerreports.org)
4. 2010-2011 Lincoln Navigator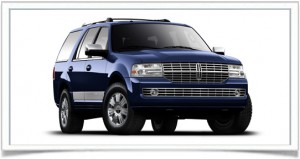 The Navigator will probably rank much higher when Lincoln can resolve the performance issues associated with its 5.4L V8. Acceleration is sluggish but the towing capacity, at 9,000 lbs., is one of the best available. "In addition to the expected buttery-smooth ride and crypt-like silence inside the cabin, the Lincoln Navigator might surprise you with its relatively agile maneuverability." It also comes available with Ford's SYNC system, which may push it ahead of some other models for techie drivers. (www.edmunds.com, www.kbb.com)
Search used cars for sale and find the best deals near you at iSeeCars.com.
To get a FREE iSeeCars VIN Report for a car, click here.