There may be no more diverse vehicle being made today than the Sport-Utility Vehicle. It combines the best of nearly every line of vehicles today. You can have the luxury of a sedan, the handling of a mid-size, the seating capacity of a minivan, the traction of a truck, and the hauling capacity of…well, of an SUV. The technical term this automotive smorgasbord of goodies has been dubbed a crossover.  And we've searched the best researchers in the business, such as Edmunds, Motor Trend, and Kelley Blue Book to find you the best 7-passenger crossover SUVs available.
Despite being in only its third year of production, the Flex seems to get better every year. Edmunds says "The ride is always comfortable — even with the bigger wheels — soaking up bumps in the road with luxury car ease."  It is also one of the innovators in design, incorporating a boxier body which allows for cargo room and some added passenger space in the rear seats. Ford's SYNC system keeps improving every year as well, allowing drivers voice recognition software for mp3 players and cell phones.


This may be the best option for those who are looking for a vehicle that will last the long haul. The new models are still fairly low priced and offer one of the best warranties in the industry at 5 years/60,000 miles.  Edmunds posits that "A top-of-the-line Veracruz Limited offers the sort of build quality and features typically expected of an entry-level luxury vehicle. The power, ride and interior noise are also indicative of a more expensive crossover."
This is one of the best handling SUV crossovers available. Comfort was definitely a major factor in the design if the CX-9 as the rear seats are easily accessible via a larger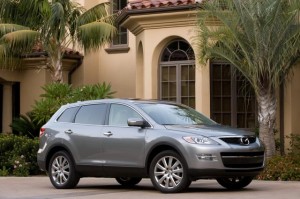 rear-sliding door. It also provides ample leg room in all three rows of seating. Performance, with the 3.7L V6, is above standards as it goes from zero to 60 mph in 7.4 seconds. Average for this class is 8.5 seconds. According to Edmunds, "Few competitors can match the roster of positives the CX-9 has to offer."
4. 2008-2011 Mitsubishi Outlander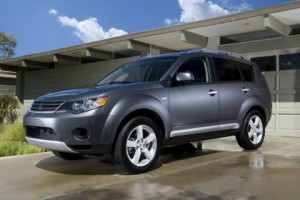 The Outlander provides positives in every aspect except one of the most important ones for this category, the third-row seat. Fuel efficiency is on par with competitors at 21/27mpg (city/highway) and it is one of the top performers in all crash safety ratings. Despite the responsive handling, lengthy warranty, and broad range of features, the Outlander has "a few low-grade plastics inside, and a kid-size third-row seat which is flimsy and hard to fold" according to Edmunds.
To see a list of other 7 passenger SUVs, see 7 passenger vehicles car list.
Search used cars for sale and find the best deals near you at iSeeCars.com.
To get a FREE iSeeCars VIN Report for a car, click here.