Saying luxury SUVs are expensive is like saying grass is green; it's obvious. Buying one is a major investment no matter how big your bank account is. Knowing that, you'll want to put as much time as possible into researching your top options. You want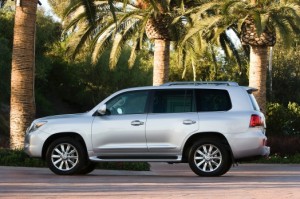 to make sure you get the best 7-passenger luxury SUV for your money. Lucky for you, all the research has been done for you. We've checked all major automotive researchers like Motor Trend, Edmunds, Car and Driver, Kelley Blue Book, to come up with a list of the best 7-passenger luxury SUVs.
1. 2011 Lexus GX460 Base MSRP: $53,220
Lexus has been leading the way in luxury for a very long time and they've incorporated that leadership into the GX460. It was redesigned for 2010, incorporating a more powerful 4.6L V8 engine. Towing capacity is one of the best in its class at 6,600 lbs. and there is ample cargo and leg room in all rows of seating. This is a much more rugged vehicle than it lets on to be, masking its macho under a veneer of technological gadgets and comfort. "Lexus leaves no market seam un-caulked" with the GX460.
2. 2011 Acura MDX Base MSRP: $43,090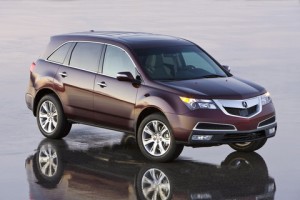 This may be the most technologically packed SUV on the market. The dashboard is cluttered with an array of buttons, switches, and gauges, all of which provide the driver with luxurious toys to play with. "Even the base model has its fair share of electronic toys, and the Technology and Advance packages add even more goodies."  The Collision Mitigating Braking System makes this an even safer vehicle than its 5-star rating by sensing collisions and even automatically applying hard braking if a crash is imminent.
3. 2011 Mercury Mountaineer Base MSRP: $30,295
One of the most powerful SUVs available in regards to towing capacity, the Mountaineer maintains the original SUV body-on-frame design, making it sturdier and capable of handling much larger loads than its competition. It remains lower on the list due to a poorer fuel efficiency than some comparable models and some awkward technological designs in the cabin. Still, it provides a very smooth ride for a truck-based SUV and the luxury of All-Wheel Drive.
4. 2011 Audi Q7 Base MSRP: $46,575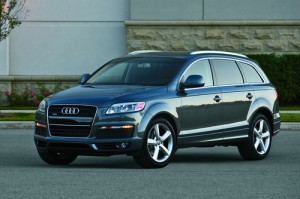 This one should be higher on the list due to its ramped-up technology and the plethora of options, including an available diesel model, however, poor fuel economy and a very tight third-row seat make it a stretch for the price. There may be better options available but the Q7 still provides one of the best rides available, an excellent five-star crash test safety rating, and the driver-controlled adjustable air suspension make it possible for you to pick your own ride feel.
To see a list of other 7 passenger SUVs, see 7 passenger vehicles car list.
Search used cars for sale and find the best deals near you at iSeeCars.com.
To get a FREE iSeeCars VIN Report for a car, click here.