A new year brings new designs, new features, and even new models. Since seven is supposedly a lucky number, we'll take a look at the best 7-passenger SUVs for 2012. Hopefully all of our research at Consumer Reports, Edmunds, Motor Trend, Car and Driver, and J.D. Power & Associates will give us an idea of who really is holding all the lucky cards, and who is coming up short.
1. 2012 Mazda CX-9        New Model MSRP: $29,725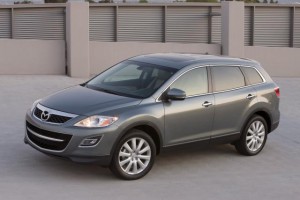 "If you want a three-row crossover that melds family-friendly functionality with a thoroughly enjoyable driving experience, you won't do better than the Mazda CX-9." It earned four out of five stars in the NHTSA's rollover tests, an admirable score for an SUV, even at the crossover level. On the other hand, it is the CX-9's performance and reliability that make it the top choice here. The engine is smooth and refined, while the interior features plenty of room and high-quality materials.
2. 2012 Buick Enclave        New Model MSRP: $36,965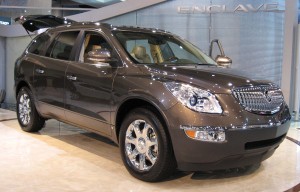 The Enclave ranks Number 1 out of 23 models on U.S. News's list of Affordable Midsize SUVs. Don't let the midsize categorization fool you though, this Buick is spacious, upscale, and offers plenty of items not found in larger models. It performs well in both frontal crash and rollover tests conducted by the NHTSA, but visibility in the front and a high belt line in the rear are still concerns. It is technically an 8-passenger SUV, but it is much better suited as a 7-passenger model with the Captain's chairs in the second row.
3. 2012 Chevrolet Traverse        New Model MSRP: $29,510
GM is slowly climbing the ladder back to being an industry leader after a few years of down sales, bankruptcy, and government bailouts. The Traverse is one of its leaders in that charge back to the top. "With its stylish good looks, spacious cabin, carlike ride and handling, plus decent fuel economy, the 2012 Chevrolet Traverse has much to offer SUV owners looking to downsize." It has the largest cargo capacity of its class, and it performs surprisingly well for its size. There is still an issue with some low-quality materials being used in the interior.
4. 2012 Acura MDX        New Model MSRP: $42,930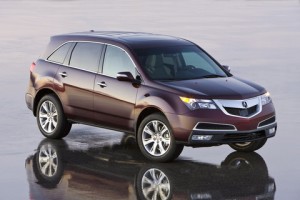 The Number One luxury midsize SUV, according to 86 published reviews and test drives from the top research experts, the MDX provides a great combination of performance, comfort, and a decent value for a luxury SUV. "When it comes to being both sensible and desirable, the Acura MDX is second-to-none." Safety scores are excellent, and towing capacity rests at 5,000 pounds when properly equipped. An optional active damper system allows the driver to switch between sport mode and comfort mode to adjust for a more pleasing driving experience.
5. 2012 Lincoln MKT        New Model MSRP: $44,300
Ranking Number 5 out of 18 on the U.S. News reports of the best luxury midsize SUVs, the Lincoln MKT also pulls into Number 5 on our list. The standard list of features is what makes it the most economical decision for those shopping for a luxury SUV. "For instance, the MKT comes standard with leather-trimmed seats, while leather seats will cost $9,700 extra on the already-expensive BMW X5." It also comes standard with AWD, one of the most pricy upgrades for any vehicle on the road.
Search used cars for sale and find the best deals near you at iSeeCars.com.
To get a FREE iSeeCars VIN Report for a car, click here.