It's been said that comfort is everything. When you're purchasing a new vehicle, you want something comfortable, something that won't make you feel like you were just stuffed into a cat carrier for six hours on long road trips. For years comfort and bucket seats have gone hand-in-hand. This is the biggest difference between 7- & 8-passenger SUVs. In the best 7-passenger SUVs or 7 seater SUVs, the second row of seats is typically two bucket seats, just like what you'll find in the first row. The bench seat sits three and is seated all the way in the rear. The second row of bucket seats becomes especially convenient if you have children you'd like to keep separated or friends and relatives who travel with and prefer the coziness of being hugged within their own, armrest-laden chair. So, if you'd like to provide that comfort for your passengers, here are the best 7-passenger SUVs or 7-seater SUVs.
A monster in power and comfort, the GX460 sets the bar for stylish quality and luxurious comfort. The kinetic dynamic suspension system provides one of the smoothest rides you'll feel from an SUV. Add to it the standard Lexus luxury and a 4.6L V8 engine and you'll have a powerful SUV with the comfort of a luxury sedan. New models are priced above $50K and get 15/20mpg (city/highway) so bring your pocketbook if you plan on owning one. Despite the dollar signs, this is a vehicle you will not regret buying.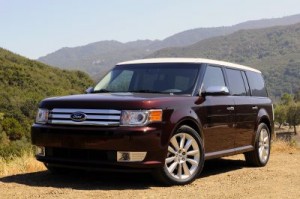 The 2009 version of this model could probably be found at a decent price considering 2010 was the first year for the addition of Ford's EcoBoost 3.5L V6 engine. It also includes Ford's SYNC system, allowing for directions, traffic updates, and Bluetooth wireless technology for cell phones and mp3 players. Despite its boxy look, the Flex is classy in an old-fashioned sense. It provides very ample rear storage space along with roomy comfort in all three rows of seats. The optional built-in refrigerator is perfect for all you tailgaters.
The Veracruz is the brain child of a combination of luxury options and mainstream sensibility. Priced under $30K,


Hyundai's crossover appeals to those who would seek mid-range economy like the Honda Pilot or Toyota's Highlander and upper-end luxury available in Lexus or BMW SUVs. The one drawback to the Veracruz is the smaller rear storage space, which is under 7 cubic feet. Other than that, the heated power seats, leather, navigation system, and premium Infinity sound system set the Veracruz above competitors in its class.
4. 2007-2010 Mazda CX-9
Since the Ford Motor Company took over production of the Mazda brand of vehicles options have increased and reliability has remained a standard. The CX-9 is no exception. If you're looking for towing capacity and power you may want to look elsewhere. However, if you're in the market for comfort and efficiency from a sporty SUV, this is your choice. Comparable in driving experience to the Lexus GX460, road noise is very well eliminated, even at highway speeds, and the 3.7L V6 engine carries more than enough power to get you through most any kind of driving conditions.
To see a list of other 7 passenger SUVs, see 7 passenger vehicles car list.
Search used cars for sale and find the best deals near you at iSeeCars.com.
To get a FREE iSeeCars VIN Report for a car, click here.