There's a minor discrepancy in the language of the automotive industry. As soon as somebody mentions an affordable car, the first things that pop into people's heads are the words "cheap," "unreliable," and "yeah right." People are afraid that if a car falls into the category of "affordable" that it's not going to live up to the expectations of the buyer in terms of reliability. While it's true that many affordable cars are not huge, and most are not packed with luxurious amenities, there are affordable cars that will be just as trustworthy and dependable as one costing twice as much. All cars are mechanical, and all things mechanical will eventually break, but if you take care of them there's nothing to say they won't last as long, if not longer, than the best automobiles on the road. After perusing the research from automotive experts at Car and Driver, Consumer Reports, Edmunds, and Motor Trend, we've found the best affordable cars for the 2010-2011 model years.
1. 2011 Ford Fiesta          New Model MSRP: $13,320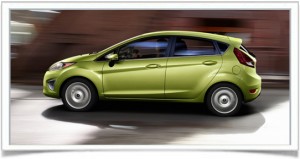 Not only does the Fiesta boast one of the most affordable MSRPs in the industry, it also gets a class-leading 30/40 mpg (city/highway) in fuel economy. It's not the biggest dog on the block, but it will definitely save you the most money. Its 1.6L four-cylinder engine remains smooth from dead-stop to top speed. Either transmission, the five-speed manual or six-speed automatic, provides defined easy shifting. Steering is precise and the suspension swallows bumps in the road. All of these things put together make this a very fun little car to drive. There is also a Super Fuel Economy package available which optimizes fuel mileage via aerodynamic tweaks in the body and lightweight wheels.
2. 2011 Hyundai Elantra          New Model MSRP: $14,830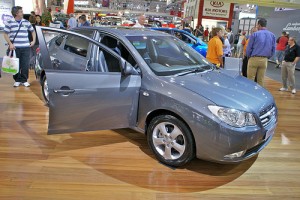 The Elantra is slightly bigger than the Fiesta, but boasts nearly the same fuel efficiency from its 1.8L four-cylinder engine at 29/40 mpg. It also has a roomy, comfortable cabin, and loads more features than you would expect from a vehicle in this price range. Handling and a well-tuned suspension keep the Elantra firmly planted to the ground and all but eliminates body roll in the turns. Its 14.8 cubic-foot trunk is large for its class, and the top-of-the-line Limited model raises the price up to nearly $20K, but makes you feel as though you've purchased a luxury car at an economic price. Unless you need something drastically bigger, this car may just be the bargain of all bargains.
3. 2010-2011 Volkswagen Golf          New Model MSRP: $17,995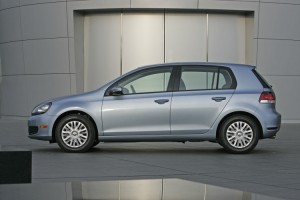 The Golf gets decent fuel efficiency at 23/30 mpg from its 2.5L four-cylinder engine, but the available 2.0L turbodiesel can up those numbers to 30/41 mpg. It also provides an ample increase in low-end torque to complement a smooth, refined handling and suspension. "Compared to other vehicles in its class, it feels positively upscale. Its interior puts others to shame (including VW's own 2011 Jetta) thanks to a sophisticated design, top-notch materials and all-around comfort. Add in optional niceties like a premium Dynaudio stereo and a navigation system and the fairly economical Golf can begin to feel like a near luxury car." (www.edmunds.com)
4. 2011 Hyundai Sonata          New Model MSRP: $19,195
Hyundai makes the list twice in this class, mostly due to their vast improvements in quality, but also due to the fact that their cars come with a 5-year/60,000-mile manufacturer's bumper-to-bumper warranty. Knowing that you won't ever have to fix the car the entire time you're making payments on it goes a long way towards upping the affordability. Even aside from the warranty, the Sonata offers a great driving experience. The 2.4L four-cylinder engine offers strong performance and steering is nicely weighted and tight. The 16.4 cubic-foot trunk is a class leader in size, while the interior boasts much more luxury than you'd expect to get for this price. It is bigger than its little brother, the Elantra, and roominess is not lacking.
Search used cars for sale and find the best deals near you at iSeeCars.com.
To get a FREE iSeeCars VIN Report for a car, click here.