All-Wheel Drive (AWD) is becoming more and more common as it is found to be better for handling in both inclement and non-inclement weather. It has been used in trucks, sports cars and sedans for decades. Seeing how popular it was becoming in other lines, automotive manufacturers decided that perhaps it would also do well for people shopping for a reliable, well-handling family vehicle. And, obviously, one of the most popular family vehicles has become the minivan. It didn't take long for the manufacturers to put two and two together. Hence, the birth of the AWD minivan. Unfortunately, their popularity didn't last long and as of 2008, only one company remains still pumping them off the line. And thanks to the efforts of dependable testing sources Edmunds (www.edmunds.com), Consumer Reports (www.consumerreports.org), and Kelley Blue Book (www.kbb.com), we've found the best AWD minivans still available today.
1. 2010-2011 Toyota Sienna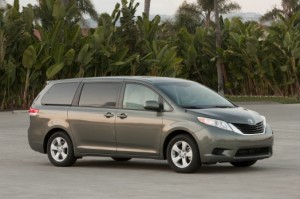 The Sienna remains the only minivan currently available with an AWD version. This version is available with the 3.5L V6 engine but does drop the fuel efficiency from 19/26 mpg (city/highway) to 16/22 mpg. Still, being the last dinosaur left has got to account for something. "Equipped with the V6, the 2011 Toyota Sienna offers truly spirited performance, just as we've come to expect from this jewel of a power plant. The Sienna's ride quality is plush, and handling is competent in all versions." (www.edmunds.com)
2. 2004 Oldsmobile Silhouette
A cousin to the Pontiac Transport and the Chevy Lumina, the AWD version of the Silhouette is better than both of them. It created a better handling, more reliable vehicle which made family life much easier on vast number of people. Despite some intake manifold issues in the early models of the 3.4L V6 engine, the later models began to hold up nicely. This was also one of the first minivans to offer the optional fourth door. It drew concerns over extreme damage during safety tests but still earned 4 stars for driver protection. (www.kbb.com, www.consumerreports.org)
3. 2005 Chevrolet Astro
This one has been called downright ugly, and for good reason. It's overly boxy, short in length and loaded with squeaks and rattles. It's basically a conversion van that was shrunk in size by some magical wizard that GM hired back in the '90s. However, the AWD feature of this vehicle makes it a workhorse. It's actually better suited as a work vehicle than as the family minivan. However, it is a great handling vehicle that has the best hauling capacity of almost any minivan. The higher roof and removable rear seats make it a perfect choice for cargo carriers. (www.kbb.com, www.consumerreports.org)
4. 2008 Chrysler Pacifica
Suspension and rust problems take something away from the Pacifica but its stylish looks and low-priced amenities bring it back up. The AWD feature was discontinued after this model year (as it was with nearly all minivans) but it makes the Pacifica a beast in inclement weather. The 4.0L V6 provides just enough power to give great acceleration while maintaining a decent fuel efficiency. Optional DVD system, third-row seat and moon roof are just the tip of available features. The AWD Pacifica also retains its resale value better than most competitors. (www.edmunds.com, www.kbb.com
Click to see all AWD cars list or to see all AWD minivans list.
Search used cars for sale and find the best deals near you at iSeeCars.com.
To get a FREE iSeeCars VIN Report for a car, click here.