Street fighters, muscle cars, hot rods and pocket rockets – America's consumers still want the best cars for cheap speed. No matter the state of the economy, there's nothing like performance to get your blood pumping. We're not talking exotics here. No fancy, stratospherically-priced Italian makes with unpronounceable names. We're looking for simple, down-and-dirty, inexpensive cars that deliver on the promise of speed.
With this in mind, here are our top picks for Best Cars for Cheap Speed:
Ford Mustang – An American icon, and the longest-surviving affordable muscle car, Ford Mustang is all about evolution. The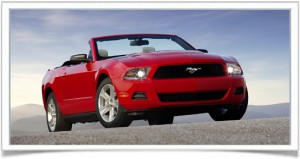 specs are in for the 2011 front-engine, rear-wheel drive (RWD) Ford Mustang, featuring two powerful all-new engines: the 305-hp 3.7-liter V6 and the 405- to 412-hp (using premium fuel) 5.0-liter V8. Both are paired with a 6-speed manual or optional new 6-speed automatic transmission. Compare these to the 210-hp 4.0-liter V6 and 315-hp 4.6-liter V8 in the 2010 Mustang and Mustang GT, respectively. The 2010 V8 delivers 0 to 60 miles per hour (mph) in close to 5 seconds. Manufacturer's Suggested Retail Price (MSRP) for the 2011 V6 Mustang begins at $22,145, while the Mustang GT starts at $29,645. Edmunds says of the 2011 models: "The Mustang continues to be one of the best bang-for-your-buck performance buys. This year's new V6 has brought renewed vigor to the entry-level Mustang while the 5.0-liter V8 GT has more power than even the old SVT Cobra model of a few years ago."
Chevrolet Camaro – Along with Mustang, the Chevrolet Camaro is America's best-known and iconic muscle car. For 2011, the base Camaro is equipped with a 312-hp 3.6-liter V6 engine (up 8 hp from 2010's 304), while the burly 6.2-liter V8 in Camaro SS pounds out 426 horses. Both include standard 6-speed manual transmission. Note that Camaro returned in 2010 after a 7-year hiatus, with an all-new, yet back-to-its-roots design. Starting MSRPs for 2010 Camaro models (2011's aren't out yet) are $22,680 for the V6 and $30,945 for the SS V8. Road & Track timed the 2010 SS V8 manual to 60 mph in 4.6 seconds. Kelley Blue Book remarks: "The 426-horsepower SS model certainly grabs the headlines, but the 304-hp V6-equipped LT offers significantly more performance than you might expect, while turning in laudable fuel efficiency."
Dodge Challenger – With 5-passenger seating (compared to competitors' 4), the 2010 Dodge Challenger, an aggressive, retro-styled street machine, provides 250 horsepower in the 3.5-liter V6 Challenger SE (MSRP beginning at $23,460), and 376 horses in the 5.7-liter V8 Challenger R/T (starting MSRP at $31,585) – both with 5-speed automatic transmission. Road & Track comments: "Arguably the most well-executed retro-style pony car on the market, the Challenger…is a straight-up shot of adrenaline."
Other Best Cars for Cheap Speed to consider include:
Search used cars for sale and find the best deals near you at iSeeCars.com.
To get a FREE iSeeCars VIN Report for a car, click here.