It's almost become a golden rule in the automotive industry – the smaller the car, the better the fuel efficiency. As with any rule, this is not always the case; it does, however, have several arguments in its favor. The best argument would be the best compact sedans. Despite the fact that when most people think of sedans they think long and luxurious, not all sedans are road-hogging gas guzzlers. It's time to make room for the little guys. They're sportier, they're cheaper, and they're typically more fun to drive. Manufacturers have also come to the realization that consumers are tired of being shorted on technological gadgetry simply because they want a more economical alternative to the big boys. So, many of the mini-mobiles come with all the same features and options as their larger counterparts. Here they are, found by research from all the top automotive testers, the best compact sedans.
1. 2009-2011 Mazda 3          New Model MSRP: $15,345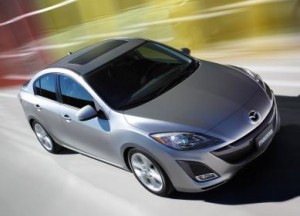 "The Mazda 3 is a class leader in terms of interior design, quality and feature content." Both power (148 horsepower with the 2.0L 4-cylinder and 167 horsepower with the 2.5L 4-cylinder) and fuel economy (22/29 mpg city/highway) are on par with competitors but ride quality is very impressive for such a small vehicle. Its refined road manners will surprise, if not shock, many who see the low price tag. The optional power front seats provide a wide array of adjustment, allowing for even taller, bigger drivers to sit comfortably behind the wheel. "Thanks to its performance-oriented chassis tuning, the 3 is blessed with minimal body roll and a healthy amount of grip on twisty blacktop, and the steering is quick and communicative." (www.edmunds.com, www.consumerreports.org, www.kbb.com)
2. 2007-2011 Mitsubishi Lancer Evolution          New Model MSRP: $33,590
Though classified as a compact sedan, the price tag should make it obvious that you're getting more than just another small car. "The Mitsubishi Lancer Evolution is a sports car in compact sedan clothing. The advanced all-wheel-drive system works behind the scenes to give the car very impressive handling and traction abilities." The Evolution is all about performance, boasting 291 horsepower and 300 lb-ft. of torque from just a 4-cylinder engine. Fuel economy is sacrificed slightly for performance, garnishing 16/22 mpg (city/highway). Interior materials are on par with what you'd find in a compact sedan, which is to say slightly disappointing for a car of this price. (www.edmunds.com, www.motortrend.com)
3. 2009-2011 Ford Fiesta          New Model MSRP: $13,320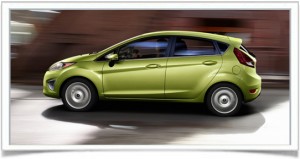 If you've done your homework then you know the Fiesta has been one of the most highly-anticipated models to come out for the past couple years. It is the only American-made compact that has shown the economy and rewarding feel that has come only from foreign-made models the past few years. "Though its acceleration is just average, in the real world of stop-and-go traffic and freeway merging, the Fiesta's mill is a pleasure." The 1.6L 4-cylinder engine is most impressive because of its seemingly non-existent thirst for fuel, estimated at 29/38 mpg (city/highway) for the manual models and 30/40 mpg for the automatics. Cargo space could be better and the bare-bones models are truly that. (www.edmunds.com, www.consumerreports.org)
4. 2009-2011 Kia Forte          New Model MSRP: $13,695

Perhaps it's the new designer, formerly of Audi, or perhaps it's the excellent handling and fuel economy; whatever the reason, the Forte is a giant leap over its predecessor, the Spectra. There are two engine options, the 2.0L 4-cylinder and the 2.4L 4-banger, both of which get decent fuel economy and performance. "In any trim, the ride is comfortable enough, and with the exception of intrusive road noise on some surfaces, the Forte is a confident highway cruiser." Handling could be a bit firmer and body roll needs to be addressed on hard turns; but, aside from those minor flaws, the price tag makes the Forte a premier choice for those shopping for a compact sedan. (www.edmunds.com, www.kbb.com)
Search used cars for sale and find the best deals near you at iSeeCars.com.
To get a FREE iSeeCars VIN Report for a car, click here.