If you're thinking of spending up to $30K on an automobile, you may want to take a look at the best crossover cars under $30,000. The crossover blends the best of both worlds – the world of sedan and the world of SUV. If you like sedans but don't like the limited interior space and lack of cargo area, you'll want to take a look at the crossover. If you like the cargo space, roomy interior and full-fledged technological atmosphere of an SUV but don't like the bulky feel or weighted driving experience, you'll want to check out a crossover. Crossovers can blend a variety of trim options to match up your perfect desire of power, luxury, space, handling and technology. It can be the perfect family car yet still have the sleek styling and power to make it a gem for the single person just looking for a quality driving experience. Either way, if this is your price range, you'll definitely want to take a look at the best crossover cars under $30,000.
1. 2010-2011 Ford Flex              MSRP: $29,075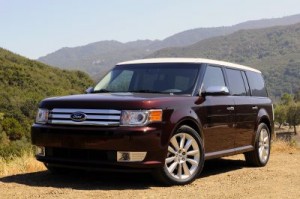 On paper, the Ford Flex looks great; the driving experience is even better. The list of benefits you'll receive with this purchase makes it well worth the extra cost: "high-quality cabin, genuine seven-passenger space, refined ride, excellent safety scores, high-tech features, strong turbocharged engine option and unique styling" are all advantages that come in bulk with the Flex. The 6-speed transmission can become quirky when downshifting but the available standard shift paddles go a long way toward eliminating this issue. (www.edmunds.com, www.kbb.com)
2. 2010-2011 Honda Accord Crosstour              MSRP: $29,670
Honda turned its best selling car into a crossover, giving it the only thing it ever truly lacked – more space. It offers all the driving dynamics of a sedan with the cargo space and roomy interior of a crossover. The curb weight isn't much higher than the Accord sedan, which makes the available 3.5L V6 seem even more powerful than it is. Fuel economy is in the range of 18/27 mpg (city/highway), which is slightly disappointing considering Honda's reputation as one of the most fuel-efficient brands. "One notable difference between the Crosstour and Accord is the former's nicely suppressed road noise, a rare trait in a Honda product." (www.edmunds.com, www.consumerreports.org)
3. 2010-2011 Toyota Venza            MSRP: $26,275
"The Toyota Venza blends the attributes of a crossover SUV with those of a wagon, resulting in a pleasantly useful form of family transportation." The interior is one of Toyota's best in both quality and usability. The addition of a device holder (for iPods and other small devices) plus a mounted LCD screen make the Venza one of the most tech-savvy vehicles in the Toyota line. It's one drawback is the lack of a third-row seat but that's becoming more rare in crossovers as time moves on. The electric power steering remains very responsive and the ride quality is extremely smooth. A substandard warranty, especially for the powertrain (5 years/60,000 miles) makes it a slightly riskier buy at this price. (www.edmunds.com, www.kbb.com, www.consumerreports.org)
To see all cars under $30,000, click here.
Search used cars for sale and find the best deals near you at iSeeCars.com.
To get a FREE iSeeCars VIN Report for a car, click here.