For some reason, manufacturers are gearing more toward hybrid technology for SUVs than toward clean diesel. Obviously this is due in large part to the attempt to break away from fossil fuels; however, a hybrid SUV seems more like a strongman with muscles made of balloons under his shirt – there's not a whole lot of power in a vehicle that is supposed to possess at least a little. A diesel SUV on the other hand, well, that's another story. There is power to spare. Unfortunately, if you'd like that power to come from a fuel-efficient diesel vehicle, you really only have four choices left. Just because the options are limited doesn't mean they're poor though. Take a look at what the experts at Consumer Reports, Edmunds, Motor Trend, Car and Driver, and J.D. Power & Associates have to say are the best diesel SUVs for 2012.
1. 2012 BMW X5        New Model MSRP: $56,700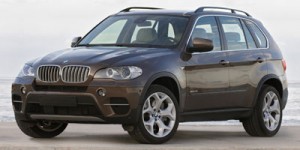 The X5 is worth the price in style alone, but that's the least of what you'll get if you venture to try this diesel SUV. The one knock is still the iDrive system, which only seems to be getting worse with age. The interior remains BMW classy, and the exterior styling is one of the best you'll find in this class. The seats are quite comfortable, though some of that comfort is lost in the rear seating. Still, the chassis remains tight, braking is adequate, and it remains a Top Safety pick.
2. 2012 Audi Q7        New Model MSRP: $51,450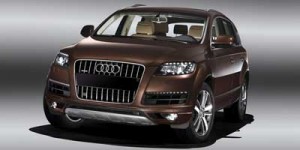 You may sacrifice a bit of horsepower for the diesel model, but torque goes way up and that's where the real power is. The 3.0L turbodiesel V6 manages 17/25 mpg (city/highway). "Combining as it does our loves of torque, top-notch design, and brown paint, we're crushing pretty hard on our latest long-termer. … Everyone who has driven the big four-ringer has complimented its manners, daily usability, and menacing looks." It hasn't been fully crash tested yet, but so far it receives a perfect 10 in safety.
3. 2012 Volkswagen Touareg        New Model MSRP: $46,875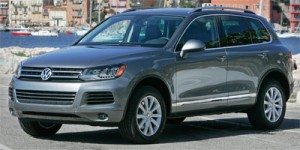 The high-class interior may make you feel like you're riding in something of a luxury line, until you glance down at the VW emblem staring you back in the face. The eight-speed automatic transmission and All-Wheel Drive both come standard. It doesn't possess a lot of low-end power, which limits its off-road prowess, but that doesn't take away from the on-road capabilities. Steering and handling are both very capable, but the interior is the definite highlight of the Touareg. Cargo capacity is 32 cubic feet with the rear seats up and 71 total cubic feet of cargo capacity with them stored.
4. 2012 Mercedes-Benz GL-Class        New Model MSRP: $61,570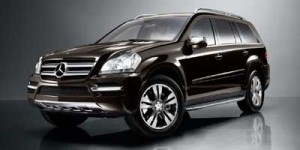 "As prevalent as it might be in these days of downsizing and budget cuts to dismiss full-size SUVs as relics of the past, they exist for very good reasons, most of which are clearly demonstrated by the … Mercedes-Benz GL-Class." The exterior styling isn't as brash as most, but the interior is every bit as brash as luxury competitors. That makes it perfect for those who love the luxury, but prefer to ride in something a bit more understated. The 4-year/50,000-mile warranty should cover any worries over the 7 out of 10 score it received in reliability from U.S. News, but it won't detract from the monster price tag.
Search used cars for sale and find the best deals near you at iSeeCars.com.
To get a FREE iSeeCars VIN Report for a car, click here.