If you're looking for the best diesel SUVs, then you're probably a shopper who wants some added power with the convenience of better gas mileage. There's also a reliability difference with diesel engines. Some diesels have been known to go for not just thousands of miles, but millions. Granted, maintenance has a lot to do with it, but for whatever reason diesel engines just seem to possess a superior strength and resilience to their gasoline-driven counterparts. And if you can get one in a vehicle that possesses the towing capacity of a smaller truck and the seating capacity of a smaller bus, why not go for it? Here's your choices – the best diesel SUVs.
1. 2009-2011 Audi Q7          New Model MSRP: $50,900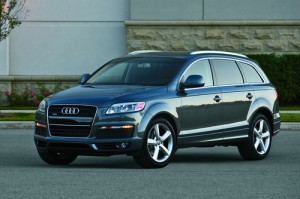 The All-Wheel Drive 3.0L turbodiesel Q7 sets the standard for diesel SUVs everywhere. It combines everything you'd want in an SUV with the added fuel efficiency and power of a diesel engine (400 lb-ft. of torque). Properly equipped, it can tow up to 6,600 pounds and still leave you sitting in luxurious comfort. It's a bit bulky and can handle as such, which can make parking difficult at times. Thankfully, the backup camera aids in that situation. A towing package and cold weather package are just the tip of the iceberg when it comes to options. (www.edmunds.com, www.consumerreports.org)
2. 2009-2011 Mercedes Benz ML350 Bluetec         New Model MSRP: $49,700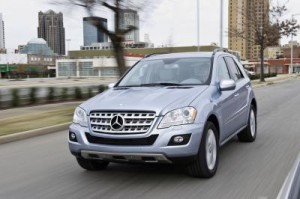 "The ML350 Bluetec has a 3.0-liter turbodiesel V6 that utilizes 50-state-legal clean diesel technology. It produces 210 hp and a prodigious 400 lb-ft of torque." It is also one of the safer SUVs available, earning a 5-star rating in all front and side government crash tests. It comes to a stop from 60 mph in just 121 feet, excellent for a vehicle of its size. The engine could probably be a bit more responsive, which is the one thing keeping it out of the top spot. Aside from that, you'll still get all the luxury Mercedes has come to be known for. (www.edmunds.com, www.kbb.com, www.consumerreports.org)
3. 2008-2011 BMW X5          New Model MSRP: $51,300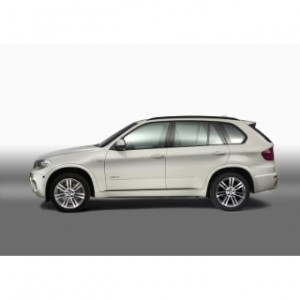 "When it comes to luxury crossover SUVs, the BMW X5 is the standard-bearer in terms of handling and performance." Fuel economy for the 3.0L inline-6 turbodiesel is impressive at 19/26 mpg (city/highway), yet it remains competitive in acceleration. Properly equipped it can tow up to 6,000 pounds and the new iDrive system seems to have worked out many of the bugs that have plagued it in the past. Rear seating is slightly lower than comfortable, which could be a pain for taller passengers who value legroom over headroom. With both third-row seats folded down, cargo space increases to 75 cubic feet, average for this class. (www.edmunds.com, www.consumerreports.org)
4. 2009-2011 Volkswagen Touareg          New Model MSRP: $44,350
When you've been making diesel engines as long as Volkswagen has, you're bound to do a few things right; and, they have with the Touareg. The 3.0L turbodiesel V6 is one of the best in this class, earning a fuel rating of 18/25 mpg and still capable of towing 7,700 pounds. The second-row seat is very roomy but the lack of a third-row seat may be a deterrent for many who buy SUVs for the added passenger capacity. "The optional hard-drive-based navigation system boasts crisp graphics and an intuitive touch-screen interface." (www.edmunds.com, www.consumerreports.org)
See a list of all diesel SUVs
Search used cars for sale and find the best deals near you at iSeeCars.com.
To get a FREE iSeeCars VIN Report for a car, click here.