If everything in the world was the way it should be, then someone would have contacted Mr. Webster and told him that under the definition for "workhorse" there should be a picture of one or two of the best diesel trucks. If you can associate vehicles with professions then diesel trucks are the garbage men, the ditch diggers and the builders of the world. They're blue collar. They give everything they've possibly got…and then they give some more. Unfortunately, unlike their blue-collar human counterparts, there aren't many choices left available. The ones that are available, however, stay true to their reputation. They work long hours for little gratitude and hardly ever complain. They're more efficient, more powerful and tougher than their gasoline siblings. So, if you're blue collar and need a truck to match, don't worry; you can take a break now, we've already done the leg work for you. Sit back and take a look at the hardest working vehicles in the industry: the best diesel trucks.
1. 2009-2011 Dodge Ram 2500          New Model MSRP: $27,215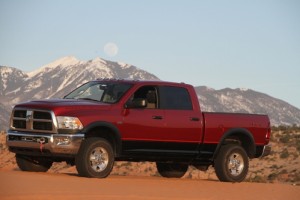 The Dodge corporation has taken more than its fair share of lumps over the past few years, but the newly redesigned Ram is becoming a bright spot in what looked like a very dim future. The 6.7L Cummins turbodiesel inline-6 produces 350 horsepower and a massive amount of torque at 650 lb-ft. That equips it to handle loads of 3,160 pounds of payload capacity as well as 13,450 lbs of towing capacity. The monster engine can be coupled with either a six-speed manual or six-speed automatic transmission. Despite its mammoth size and build for handling roughshod tasks, the Ram rides quite comfortably in all situations. This is the working man's workhorse. (www.edmunds.com, www.consumerreports.org, www.kbb.com)
2. 2008-2011 Ford F450 Super Duty          New Model MSRP: $44,720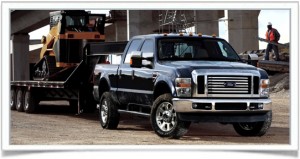 A monster of a machine coupled with roomy interior comfort is the staple of this huge dual-rear-wheeled truck. Buyers will have a very hard time finding a bigger beast anywhere. Not only is the 6.4L turbodiesel V8 capable of towing 24,600 pounds (with the fifth-wheel hitch), it can also haul more than three tons. Antilock brakes and the SOS Post-Crash Alert system come standard, as does Ford's Sync technology. A six-speed manual transmission comes standard but a five-speed automatic is available as an option. "An unladen F-450 has a stiff ride, the downside of a chassis with such prolific towing and hauling capacities." (www.edmunds.com, www.consumerreports.org)
3. 2010-2011 GMC Sierra 3500HD          New Model MSRP: $27,685
With a whopping 6.6L Duramax turbodiesel V8, the towing and hauling capacity of the Sierra surpass the Ram at 16,500 lbs (with a fifth-wheel trailer) and 5,300 lb, respectively. A safety package with power-adjustable pedals and rear parking assist are both available. "A notable strong point is the Chevrolet Silverado 3500's well-weighted steering that provides the driver with a greater sense of vehicle control. This is a particular benefit on tight country roads." Interior options are plentiful and comparable technologically to many luxury sedans. However, questionable reliability in suspension and steering bring it to the bottom of the list. (www.edmunds.com, www.consumerreports.org, www.kbb.com)
See list of all diesel trucks
Search used cars for sale and find the best deals near you at iSeeCars.com.
To get a FREE iSeeCars VIN Report for a car, click here.