The invention of the hybrid battery pack has led to several technological advances in the electric car. These advancements are filtering down through several manufacturers, and many of them are now throwing their hats into the Electric Car ring. There are three that are well worth taking a look at for the 2012 model year. However, we've also included two that will not be available until 2013. This is done for two reasons: 1) There is a limited selection of 2012 models that are worth the money at this time, and 2) The 2013 models offer advancements that consumers have yet to see in the electric car genre. As it stands, here are the best electric cars for 2012 according to automotive experts at Consumer Reports, Edmunds, Motor Trend, Car and Driver, and J.D. Power & Associates.
1. 2012 Ford Focus Electric        New Model MSRP: $39,200
Not much changes from the standard Focus to the Focus Electric, which is exactly why it sits atop this list. Granted, it does have a cramped rear seat and the infotainment system is difficult to use, but it still possesses the nimble handling, smooth ride, and an abundant list of high-tech options. Ford promises at least a 100-mile range on a full charge, but that will obviously vary with driving dynamics, load, and driving style. As with any other Ford available, the Focus Electric also offers the MyFord system.
2. 2012 Mitsubishi i-Miev        New Model MSRP: $29,125
The i-Miev probably looks exactly like a caveman would picture an automobile if someone were to have the opportunity to travel back in time and explain technology to him. It's small, taught, and offers the most affordable option of the electric line. It is also one of the most unpredictable, as driving distances on a full charge have ranged from 45 miles to nearly 70 miles. As always, steep slopes and extra loads are going to add extra wear and tear, causing a decrease in battery efficiency; but it does offer a quiet cabin, refined style, and no gas pump visits.
3. 2012 Nissan Leaf        New Model MSRP: $35,200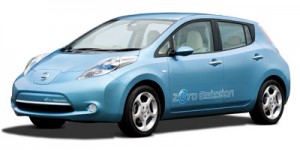 The EPA estimated driving range for the Leaf is 73 miles, but this one will also vary based on all the previous criteria. The big highlight for this one is that the battery pack is located underneath the rear seats, leaving a little extra cargo space. Just remember, that additional cargo is going to shorten your trip a bit. There is no shortage of head space in the front row of seats, but the sloping angle of the roof does restrict rear headspace a bit. Being able to program when you'd like the charging session to begin will allow you to take advantage of lower electric rates as well.
4. 2013 Honda Fit EV Hatchback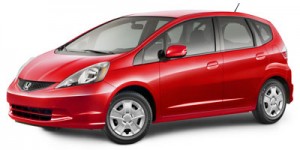 The Fit is not a bad car by its own rights, so it will be extremely interesting to see what the Fit EV has to offer. Nissan is predicting a total trip of around 70 miles on a full charge, but there are three driving modes – Normal, Sport, and Eco – which will play a large role in determining that number on a consistent basis. It won't go much faster than 90 mph, which is a good thing considering its small size, but an assortment of technological gadgets does come standard. Many are wondering what these additional features will ultimately do to the travelling distance and battery life.
5. 2013 Tesla Model S Sedan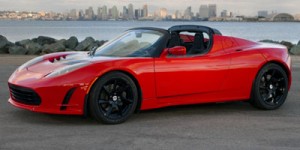 Tesla was one of the first manufacturers to throw their hat in the all-electric automobile rink, and they are by far one of the best. The previous Tesla electric models cost an arm and a leg, but the 300-mile distance on a single charge was blowing away every competitor that tried. They've come down on price a bit, but that mileage number drops with it. The base model S Sedan will be capable of 160 miles on a single charge, while the Signature Series will be capable of hitting the 300-mile mark. It starts off at closer to $77,000 though.
Search used cars for sale and find the best deals near you at iSeeCars.com.
To get a FREE iSeeCars VIN Report for a car, click here.