Everything gets more expensive when you have a family. It seems like the best of everything is always just out of your price range. No more eating at the best restaurants; no more shopping for the best clothes; and, no more buying the best toys to brag to your friends about. Fortunately, there is still one thing you can have the best of without going broke: the best family cars. It may seem like a sad day when you have to trade in your AWD performance sport coupe that used to take corners at 60 mph and make your friends drool just looking at it; but, don't fret. Family vehicles can still be very fun to drive and much easier on your wallet at the gas pump to boot. They also keep you from having to mount Junior on the luggage rack when the back seat is full of groceries and the trunk is overflowing with strollers, lawn chairs and the 60-gallon rolling cooler that you keep forgetting to take out and put in the basement. So don't feel bad, you can still have the best of something. Take a look at what's available in the line of best family cars.
1. 2009-2011 Chevrolet Traverse          New Model MSRP: $29,224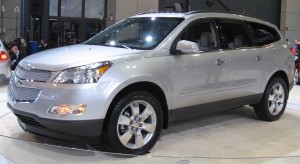 "While the Traverse is the least expensive of GM's three large crossovers built on the same underpinnings (the other two are the Buick Enclave and GMC Acadia), it's appealing in ways that go beyond the bottom line." Its roomy interior and 8-passenger capacity make it perfect for families, big or small. It supports a relatively decent fuel economy at 17/24 mpg (city/highway) and one of the best crash test ratings in the industry. The 20-inch wheels will hinder ride quality somewhat so opt for the smaller wheels if you can. (www.edmunds.com, www.kbb.com)
2. 2009-2011 Ford Flex          New Model MSRP: $29,075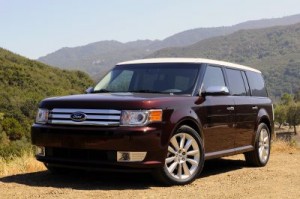 "It's a rare car indeed that appeals to convenience-minded families and urban hipsters alike, but the Ford Flex does just that." Despite its unique styling, it still possesses one of the best safety ratings available. It also possesses a turbocharged option for its 3.5L V6 engine, which should appeal to the Dads. The rear-seat DVD system will appeal to all family members, especially the kids, and the reclining captain's-style chairs provide a comfort and elegance for all second row passengers. A tight suspension and trigger-quick steering allow for very fresh cornering. (www.edmunds.com, www.consumerreports.org)
3. 2009-2011 Subaru Outback          New Model MSRP: $23,195

"Spacious interior, excellent outward visibility, crossover-besting cargo space, comfortable ride, perfect crash scores, commendable off-road performance for a wagon and simple controls on the lower trims" are all positives to the Outback. It achieved a perfect 5 stars in all government crash tests and a rating of "Good" in its frontal-offset, side and roof strength tests, conducted by the Insurance Institute for Highway Safety. If you want a decent sound system, go with the Harman Kardon option as the base 4-speaker system lacks a decent sound quality. The HK also integrates Bluetooth wireless technology. (www.edmunds.com, www.motortrend.com, www.consumerreports.org)
4. 2011 Honda Odyssey          New Model MSRP: $27,800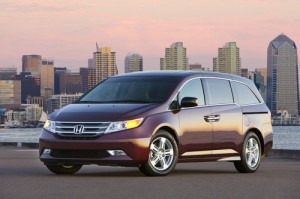 This is a brand new design year for the Odyssey and it looks like it's going to pick up the award-winning path of its earlier models. "No other vehicle offers the type of versatility and space for kids and the copious amount of stuff that invariably comes along with them." It is still only available with the 3.5L V6 engine, which isn't a bad thing in either performance or fuel economy (19/28 mpg city/highway). Its price is comparable with competitors but while many competitors are extending manufacturer's warranties, the Odyssey remains the old 3 year/ 36,000 miles and a disappointing 5 year/60,000 miles on powertrain. Aside from that, it's still a solid choice for any size family. (www.edmunds.com, www.consumerreports.org)
Search used cars for sale and find the best deals near you at iSeeCars.com.
To get a FREE iSeeCars VIN Report for a car, click here.