Family sedans need to be the most versatile creatures of all the automotive classes. They need to be roomy enough to haul a whole family and all the gear that comes with it, comfortable enough to take long road trips, affordable enough to not break the bank, technological enough to appease all family members, and economical enough to make a sound investment. Finding one of these beasts that also possess reliability and quality can be a tedious search; we know, we've looked. Luckily, after searching through Car and Driver, Consumer Reports, Edmunds, and Motor Trend, we remembered to write down what we found: the best family sedans of the 2011 model year.
Best Travel Option:
2011 Ford Taurus        New Model MSRP: $25,355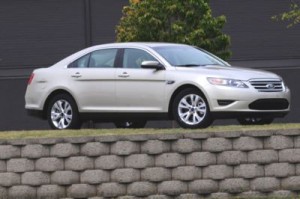 Being a full-size sedan, the Taurus is incredibly roomy. The back seat is in no shortage of headroom or legroom, and the cavernous 20.1-cubic-foot trunk is perfect for a load of luggage. It comes with a 3.5L V6 that is surprisingly fuel efficient at 18/28 mpg (city/highway), yet still powerful enough to get this 4,000-lb. touring sedan on its way fairly quickly. It also has available all-wheel drive for driving through those snowy states, though that does drop the fuel efficiency to 17/25 mpg. Ride quality is superb and road noise is nicely silenced by well-placed insulation. The digital music storage is usually a big hit with the kids.
Best Midsize Option:
2011 Mazda MAZDA6        New Model MSRP: $19,990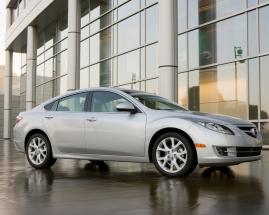 If it weren't for being a midsize, the MAZDA6 could just as easily fit into the best travel option slot. Its 16.6-cubic-foot trunk is the largest of its class, and its seats are roomy and comfortable. It comes standard with a 2.5L four-cylinder engine estimated at 22/31 mpg, but is upgradable to a 3.7L V6. The government is still in the process of safety testing it using the new, more strenuous, 2011 testing standards, but the 2010 model did garner a five-star rating in both front and side-impact tests. It also possesses the most nimble handling of its class.
Best Economical Option:
2011 Kia Optima        New Model MSRP: $18,995
Not only does the Optima boast the lowest price tag on this list, it also garners a fuel efficiency of 24/35 mpg. The cabin has a luxurious appeal to it, much like an Audi. This isn't much of a shock since the 2011 Optima's designer once worked for Audi. It features a fairly spacious cabin, a solid amount of legroom, and a 15.4-cubic-foot trunk. Not only is the interior impressive for an economy sedan, but the ride is comparable with vehicles in much higher classes as well.
Best Luxury Option:
2011 Hyundai Genesis        New Model MSRP: $33,000
It's still up for debate whether to call the Genesis a "luxury" vehicle or not; what is not up for debate is that it looks, feels, and drives luxuriously. That makes it the most affordable luxury car available, which always appeals to families, since they are always in need of saving a few extra coins. The 15.9-cubic-foot trunk is on the average side, but still big enough to accommodate several items. The interior is regal with an abundance of sweeping curves and modern conveniences. The 5-year/60,000-mile warranty is the clincher.
Best All-Around Option:
2011 Ford Fusion        New Model MSRP: $19,820
The Fusion is the perfect vehicle to handle the family needs. It's a midsize, but remains generously spacious in front and rear. It offers three engine options: a 2.5L four-cylinder for better fuel economy at 22/31 mpg, the 3.0L V6 for a little extra power, and the more powerful 3.5L V6 for Sport models. It passed government crash testing with flying colors, earning five stars for front head-on collision protection, and five stars for front passenger protection in a side-collision. It also features a generous 16.5-cubic-foot trunk. Add Ford's Sync technology and every family member should be pleased with this one.
Search used cars for sale and find the best deals near you at iSeeCars.com.
To get a FREE iSeeCars VIN Report for a car, click here.