Gas prices are climbing again. Last time gas prices reached their $4 and $5/gallon peaks, many people decided to downgrade their vehicles to something small and economical. Filling up once a week, as compared to once every other day, was a breath of fresh air for most people. It looks as though the air is getting smoggy once again as the numbers on the gas station billboards continue to climb. Since there is no more fuel-efficient line of car than a compact, we've searched Car and Driver, Consumer Reports, Edmunds, and Motor Trend to find the best fuel-efficient compact cars of the 2011 model year.
Best Hatchback Option:
2011 Volkswagen Golf Diesel        New Model MSRP: $23,225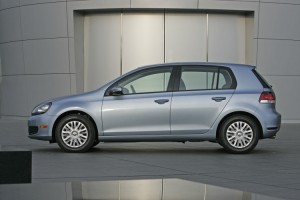 Being a diesel, the Golf represents the best you'll find in a fuel-efficient hatchback car. Not only does it offer the best fuel efficiency at 30/42 mpg (city/highway), it features excellent interior materials and build quality, a stylish look, and solid driving dynamics. Cargo capacity reaches a maximum of 46 cubic feet with the split-folding rear seats down. That number drops to 12.4 cubes with them up. This VW earned four out of five stars for frontal-impact protection and five out of five in side impact protection in the government's new crash-test standards. The clean diesel technology from VW is one of the most environmentally friendly being made, too.
Best Hybrid Option:
2011 Toyota Prius        New Model MSRP: $21,650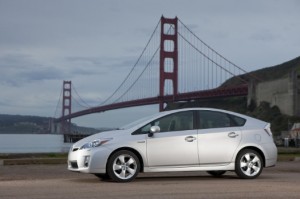 If you're going to pick a hybrid car based on fuel efficiency, it doesn't get much better than the Prius at 51/48 mpg. Though small on the outside, the interior somehow remains quite spacious, and possesses a smooth, comfortable ride. Many drivers will be fooled into wondering if the vehicle is still running thanks to its extensive sound-deadening insulation, not to mention the super-quiet electric motor. The drawback to the interior is the lack of quality materials. Instead, you'll get a lot of hard plastics and cheaper materials. On the other hand, the savings at the gas pump may make you forget all about that.
Best Economical Option:
2011 Ford Fiesta        New Model MSRP: $13,320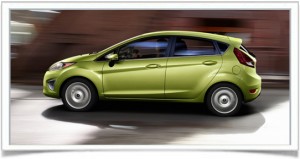 You won't find too many price tags lower than that of the Fiesta. Don't think that says anything about the quality of this vehicle, though. With a low price tag and a fuel efficiency of 28/37 mpg, this is one of the best bargains you'll find on a car lot right now. The Fiesta features some very sporty driving dynamics, a nicely-trimmed cabin, and a class-competitive 12.8-cubic-foot trunk. Acceleration is only average, but the handling and ride quality are unlike anything else seen in the compact segment.
Best Luxury Option:
2011 BMW 528i        New Model MSRP: $45,050
The 528i's 3.0L inline-6 is rated at 22/32 mpg; that's some of the best fuel efficiency you'll find in a luxury sedan of the 5 Series' caliber. The interior doesn't go so far as to be extravagant, but it does have a very clean, efficient look with extremely comfortable seats, front and back. The new eight-speed transmission is a highlight for all 5 Series lines, and the additional option of a manual transmission just shows that BMW hasn't given up on driving enthusiasts wanting a luxury sedan.
Best All-Around Option:
2011 MINI Cooper        New Model MSRP: $19,400
For those of you who haven't at least test driven a MINI Cooper, do yourself a favor and take a half-hour one day and try it. While many people have been turned off by the miniscule size of this compact, it is truly one of the most engaging little vehicles one could ever drive. The handling is sharp, taking corners with flawless effort, and fuel efficiency from the 1.6L four-cylinder engine is estimated at 29/37 mpg. Throw in a maximum cargo capacity of 24 cubic feet and you've got a fun-to-drive, versatile little compact.
Search used cars for sale and find the best deals near you at iSeeCars.com.
To get a FREE iSeeCars VIN Report for a car, click here.