Gas prices are on the rise again. Thanks to some renewing tensions in the Middle East, or thanks to the election year, or thanks to whatever mystical magic is used to determine the overall price at the pump, no matter what the reason for the increase, we're all dishing more out of pocket to have the privilege of driving. Since there are very few of us who can afford to give up the additional space a nice sedan provides, let's give thanks that there are still worthy machines that offer some decent fuel efficiency in return. Here are what the experts at Consumer Reports, Edmunds, Motor Trend, Car and Driver, and J.D. Power & Associates call the best fuel-efficient sedans for 2012.
1. 2012 Ford Focus        New Model MSRP: $16,500
Over the past five years Ford has moved leaps and bounds ahead of the competition in terms of fuel efficiency. That production has afforded them the ability to equip the Focus with a fuel economy of 26/36 mpg (city/highway). That's one of the best you'll find in a sedan that has any space inside it. Not only will it save you at the pump, but it also offers the best of driving dynamics, interior comfort, and exterior style. The Focus is a hit, no matter how you look at it.
2. 2012 Hyundai Sonata        New Model MSRP: $19,795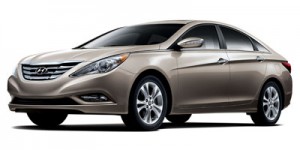 "In reviews of the 2012 Hyundai Sonata, the same theme is repeated over and over again: value. This is quite frankly, a tremendous amount of car for the money." It boasts a fuel economy of 24/35 mpg. With standard features like HD radio, Bluetooth, USB and auxiliary iPod inputs, it could be easy to confuse the Sonata's cockpit with a cubicle at IBM. We would venture to say that the Sonata is going to be much more comfortable than that ratty old office chair though. Cargo space is ample and the drive is serene.
3. 2012 Toyota Camry        New Model MSRP: $21,955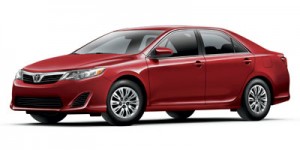 Say hello to one of the best-selling automobiles in the world. With a title like that, one would expect it to come with various comforts, conveniences, and luxuries – it does. The Camry provides one of the best combinations of comfort, engine power, interior space, and technology. Fuel efficiency comes in at 25/35 mpg. While the exterior hasn't changed drastically over the past few years, the interior is another story. It now comes festooned with high-quality materials and a more intuitive layout.
4. 2012 Buick LaCrosse        New Model MSRP: $30,170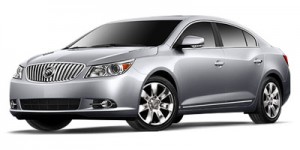 The LaCrosse is one of the larger sedans on the list, so one would think that would bring the fuel efficiency down. Not true. Thanks to GM's new eAssist, this Buick sedan comes in at an estimated 25/36 mpg as long as you don't opt for the no-cost upgrade to the V6 model. Reviewers are constantly comparing the Buick interior to that of higher-priced models like the Audi A6 and the Lexus ES. The exterior is popular among all consumers, offering sleek lines and curves covering a wide base and broad reach.
5. 2012 Audi A6        New Model MSRP: $41,700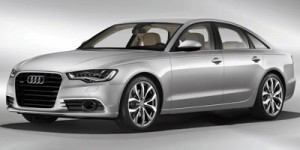 With the A6 you'll get a fuel efficiency of 19/28 mpg, and all the driving luxuries that Audi has to offer. "The A6 demonstrates conclusively that Audi has long since moved beyond seeking parity with Mercedes-Benz or BMW. Now it's working hard to assert its superiority. Anyone shopping for a mid-range luxury sedan should be looking at this car." The 2.0L turbocharged four-cylinder engine is a powerhouse, and it is coupled nicely with a continuously-variable transmission.
Search used cars for sale and find the best deals near you at iSeeCars.com.
To get a FREE iSeeCars VIN Report for a car, click here.