A new model year brings new features, new models, and new prices. It also brings new leaders atop the list of best fuel-efficient SUVs. With the addition of more and more crossovers being produced every year, the SUV line is one of the most rapidly expanding genres in the automotive industry. That rapid expansion can only lead to more choices for consumers, which is always a good thing. After researching the testing done by Consumer Reports, Edmunds, Motor Trend, Car and Driver, and J.D. Power & Associates, we've brought you the best fuel-efficient SUVs for 2012.
1. 2012 Chevrolet Equinox        New Model MSRP: $23,530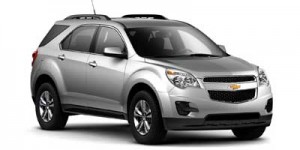 Chevy has spent the last few years since the bailout trying to prove to its consumers that it has what it takes to be a ranking champion in the automotive industry. The Equinox has become one of their crowning achievements. It's on the smaller side for an SUV, but you'd never know it were a sport-ute at all if you simply saw the 22/32 mpg (city/highway) fuel efficiency. Offering ample cargo and seating space, as well as some great practicality, it is a top choice for a family vehicle.
2. 2012 Honda CR-V        New Model MSRP: $22,295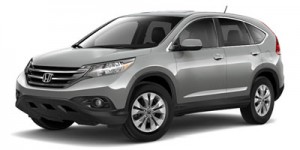 "CR-V continues to excel for its 'just-right' blend of comfort, refinement, passenger room, and cargo versatility. An edgier look for 2012 makes it stand out from the competition." One of the many highlights of the new model is its wealth of interior technological upgrades. For one, the rear seats no longer adjust forward and aft. Most reviewers actually agree that it increases legroom and adds to the comfort quotient. It also has a Pandora Internet radio interface and can read text messages aloud. You'll get all that, and 22/31 mpg.
3. 2012 Hyundai Tucson        New Model MSRP: $19,145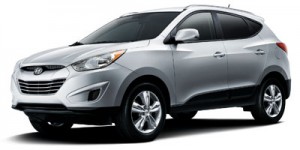 The Tucson blends reliability, power, and elegance into a compact SUV that offers 22/30 mpg. "After its redesign last year, the Tucson compact crossover continues to impress us. Notably, this isn't simply because of traditional Hyundai strengths like value, affordability and overall quality. These qualities still define the Tucson, yet the crossover SUV's sleek styling, abundant features and fun-to-drive nature are what set it apart from its competition." It is also a top pick in both safety and reliability. The 5-year/60,000-mile warranty is just icing on the cake.
4. 2012 Audi Q5        New Model MSRP: $35,600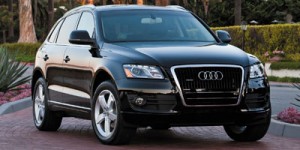 It's a bit shorter on fuel efficiency at 20/27 mpg than others in this segment, but it is the first luxury SUV to make the list, which makes it the best. The interior is regaled with wood trim, chrome accents, and some of the most top-notch materials available in an automobile. The upper trims come with the 3.2L V6, which drops the fuel economy slightly, but not enough to really notice. However, if you're not impressed with the economy, just take one for a test drive. You'll be lucky to leave the lot without owning one.
5. 2012 GMC Terrain        New Model MSRP: $25,560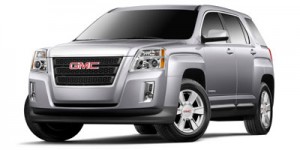 The close cousin to the Equinox, the Terrain provides everything its cousin offers and then some. It matches the fuel efficiency of 22/32 mpg. It offers ample cargo space and exterior styling, just like the Equinox, but it also takes the interior up a notch. It has more standard features and one of the most welcoming back seats in the class. It is slightly more pricy than competitors, but you'll find out why when you jump inside.
Search used cars for sale and find the best deals near you at iSeeCars.com.
To get a FREE iSeeCars VIN Report for a car, click here.