If you're at least middle-aged or older (even if you don't want to admit it), you probably remember a time when the best full-size cars were big enough to haul your family, your friends, your luggage, your barbeque set, your camping gear, your pet St. Bernard, your neighbor's tool box, a set of jumper cables, a tire jack, and your fishing poles, all in the same trip. For some of us, those were better times. We don't want to give up our space to the vastly decreasing size of today's automobiles. If you happen to fall into this category, we've taken the liberty of checking top research from automotive experts at Car and Driver, Consumer Reports, Edmunds, and Motor Trend, to bring you the list of the best full-size cars of the 2010-2011 model years.
1. 2011 Audi A8          New Model MSRP: $78,050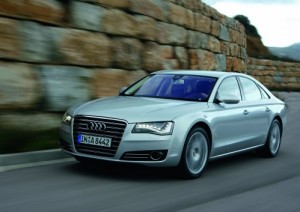 Though pricy, the A8 is the new premier in full-size luxury. The 2011 model is all new and sports a very gutsy 4.2L direct-injected V8 engine that will give 372 horsepower and 328 lb-ft. of torque. A new eight-speed automatic transmission is coupled with the 8-cylinder beast and should be able to enhance the engine's output. Audi's AWD system will come standard and will feature a 40/60 power distribution between front and rear wheels. Up to 80 percent of that power can be sent to the rear wheels whenever needed. "The real scene-stealer may end up being the in-dash features, though. Audi has introduced a new trace-pad interface that reads fingertip gestures as letters and commands. This innovation will be paired with Google Earth navigation that will make use of cell phone data networks via an integrated modem. Add to that a sweet-sounding 1,400-watt Bang & Olufsen sound system and the 2011 Audi A8 looks to mount a serious challenge for luxury sedan supremacy." (www.edmunds.com)
2. 2010-2011 Ford Taurus          New Model MSRP: $25,170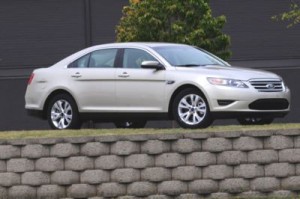 The base model Ford Taurus isn't going to be the most powerful full-size sedan you can find, sporting only a 3.5L V6, but the SHO version turbocharges that engine and ups horsepower and torque significantly. Not to mention every SHO comes standard with AWD. The Taurus cabin is very upscale for the price. The back seat provides ample passenger space and the 20.1 cubic-foot trunk can be expanded by the fold-down rear seatbacks. The full-size Ford also remains incredibly quiet when driving, and even with the stiffer suspension ride quality is quite good. A definite bargain at this price if you're in the market for a larger sedan.
3. 2011 BMW 7 Series          New Model MSRP: $70,650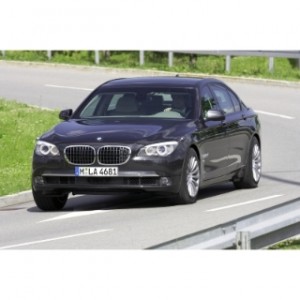 Of all the 7 Series models available, it's really hard to find one that isn't outstanding. BMW has added an engine choice to the 2011 model, going with some serious muscle by adding a 6.0L V12, good for 535 horses and 550 lb-ft. of torque. It will go from zero to 60 mph in a lightning-fast 4.5 seconds. Fuel efficiency numbers will obviously drop significantly with the bigger engine, but there is always the 3.0L twin-turbo inline-6 and the 4.4L twin-turbo V8 to choose from as well. Being the BMW flagship, luxury, comfort, and elegance are unsurpassed, as is ride quality. Some of the high-tech driving features, however, can actually be overwhelming and take away from the overall experience.
4. 2010-2011 Hyundai Genesis          New Model MSRP: $33,000

Judging by the price, you wouldn't think the Genesis would qualify as a luxury full-size sedan…until you sit in it. Sporting either a 3.8L V6 or a 4.6L V8 engine, the Genesis does not lack for power. As for interior, many drivers may confuse the cabin for far more expensive models like a Lexus or Audi. Audio quality on the sound system is amazing, and the seating is soft enough to put riders to sleep in minutes. The steering is light and precise, and either engine delivers smooth, fluid acceleration. The only real drawbacks to the Hyundai are a lack of an AWD option, and the rear seat back does not fold down to increase the size of the 15.2 cubic-foot trunk.
Search used cars for sale and find the best deals near you at iSeeCars.com.
To get a FREE iSeeCars VIN Report for a car, click here.