Hardtop convertibles were once thought to be an inconvenience. It was difficult to remove the top, and even more difficult to store it once removed. Today the hardtop convertibles provide a much different story. Thanks to technology, the mother of all convenience, removing the hardtop has become as easy as…well, removing a soft top. Push a button and watch it go. While storage still takes away quite a bit of trunk space, it does make those sudden downpours easier to endure. Here are the best hardtop convertibles for 2012, as researched at Consumer Reports, Edmunds, Motor Trend, Car and Driver, and J.D. Power & Associates.
1. 2012 Mazda MX-5 Miata        New Model MSRP: $23,470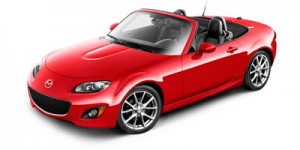 "This compact convertible offers everything a driver needs–style, convenience and ample fun." While the Mazda doesn't provide the most ample of interiors, or extremely high quality materials either, it is the driving experience, affordable, and sporty design that will attract most buyers. No matter which transmission you choose, the 5-speed or the 6-speed, you'll get short throws, precise shifts, and smooth performance. It's hard to believe with the price tag differential, but the Miata is about as close to the Porsche 911 as you can get through the steep corners and turns.
2. 2012 BMW 3 Series        New Model MSRP: $47,600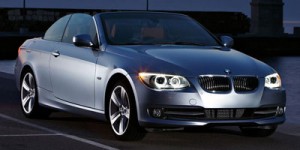 The 3 Series is not far from earning itself legendary status as an entry-level luxury trendsetter. For six generations it has never strayed from the theory that you don't change a good thing. With a new turbocharged four-cylinder engine and an eight-speed automatic transmission, performance is at its peak. That's a good feeling when the power retractable hardtop is down and the wind is racing through a very sleek, elegant luxury cabin. Options can run the MSRP up in a hurry, but the standard package is ample for any avid driver.
3. 2012 Infiniti G37        New Model MSRP: $46,650
Not only does the G37 possess all the luxury that gave Infiniti its name, but its sporty styling and power retractable hardtop make it truly fun to drive. The back seat is extremely tight for passengers, but most people shopping in this category will find that par for the course. It earned top safety scores in two of the four IIHS safety tests, but earned five out of five stars in the government's rollover crash testing. Don't bother looking for trunk space as it is virtually non-existent, but the G37 does not lack for power or handling.
4. 2012 Volkswagen Eos        New Model MSRP: $34,350
The most practical choice on this list, the Eos provides all the reliability and comforts of your standard Volkswagen, but also offers a completely exhilarating driving experience when called upon. "If you're looking for a comfortable and fuel-efficient daily driver that can also be a blast to drive on the weekends (or whenever the sun comes out), you'll find much to like in the 2012 Volkswagen Eos." It's not sporty by any means, but the turbocharged four-cylinder is ample enough to handle everything you can throw at it.
5. 2012 Volvo C70        New Model MSRP: $40,450
The C70 doesn't really provide anything spectacular. It does possess more cargo space than any other convertible, but it also possesses a very lofty price tag for what you'll be getting. Still, with the top down and the radio blaring, the C70 does seem to love the road. Like any other Volvo it features a high-scale interior with plenty of supple surfaces and passenger conveniences. However, safety has always been Volvo's forte and the C70 earns high marks from both the government and the IIHS in crash test safety scores.
Search used cars for sale and find the best deals near you at iSeeCars.com.
To get a FREE iSeeCars VIN Report for a car, click here.