So, you're looking for a best hybrid used cars and don't want to fall victim to some of the horror stories you've heard about the older hybrids: batteries going dead, fuel leaks, even cars driving themselves. Never fear, there are still plenty of well-made, quality hybrid used cars out there for the taking.
It has been more than a decade since the first hybrid cars were introduced to the public and they have taken a firm hold in the automotive sales ranks. However, they haven't quite shaken off the stigma of being overly-expensive, prone to costly repairs, and far too small for the average citizen. Over the past seven to ten years manufacturers have made it a point to address several of these issues, leaving some very sound, very affordable, used hybrids out there for the taking. Here are some worth looking into:
1) '04-'06 Toyota Prius
Pros: Toyota basically started the whole hybrid wave and they've also been the closest to perfecting it (despite several recent issues with the 3rd generation models). This model boasts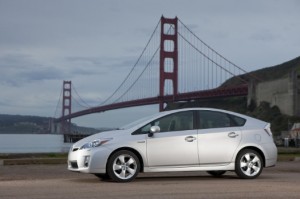 the best gas mileage of nearly all hybrid vehicles at 48 mpg/city as well as several conveniences unavailable in other hybrid models. This model utilizes Toyota's Synergy drive (an all-electric compressor for cooling) making it slightly more powerful and fuel-efficient than its predecessors. It also looks as though Toyota has solved some minor issues with the hybrid braking system which were a hassle in older models. Safety, suspension, and body all seem to be holding up nicely, even in cars with nearly 100,000 miles.
Cons: As is the case with any hybrid vehicle, you do NOT want to face replacing the hybrid batteries. Toyota rated the batteries good for a minimum of 100,000 miles (standard life expectancy for almost all new cars); however, they do expect them to last longer. Let's hope so considering the $3,000 price tag for replacement of these mammoth energy cells. As with any other vehicle, it's a gamble. You never know what you're getting until after you get it and there's always at least one bad apple in the bunch. However, one or two bad apples are far from enough reason to take a chance on the best selling hybrid vehicle ever.
2) '04-'06 Ford Escape Hybrid
Pros: One of the first models to utilize the "Full" hybrid system. This allows the vehicle to switch between full electric mode, full gas mode, or a combination of the two (which is how most hybrids are powered by default). Up to this point, there have been no major issues with the Full Hybrid system. Aside from some minor body issues (rusting around the rear quarter-panels and tailgate in the northern climates), the Escape provides the luxury and spaciousness of an SUV with the gas mileage of a standard 4-cylinder sedan.
Cons: The biggest knocks on the Escape hybrid have not come from its performance or reliability but from its lack of add-on features which people have become accustomed to seeing in an SUV. Misplacement of the CD player, seat switches, and a lack of body protection on the rear side are the biggest drawbacks.
3) '05-'06 Honda Civic Hybrid
Pros: This is the beginning of the 2nd generation Civic hybrid from Honda and the improvements were quite noticeable. The biggest knock against 1st gens was the lack of overall power. It seems the Prius was getting people where they needed to go much faster. Honda resolved that issue with the introduction of a new camshaft for the 1.3L SOHC engine. Only available as a sedan, the Civic hybrid is slightly roomier than its 2-door gas-powered sister and loaded with more safety features. The magnet-assist motor, continuously variable transmission, and electric power steering have all shown no major flaws and are wonderful additions to this generation.
Cons: While the genius of this vehicle lies under the hood, the interior is where it lacks. Known for a lack of glitz, glamour, and gadgets, don't expect luxury and economy all in one when purchasing this model. However, since it is the 2nd-best selling hybrid vehicle in the U.S., perhaps luxury is now sitting in the back seat for most people.
References
Ford information obtained from Ford Motor Company's website, linked at:
www.ford.com and www.fordvehicles.com
Honda information obtained from American Honda Motor Company's website, linked at:
Sales information obtained from Consumer Reports website via:
Toyota information pulled from Toyota's website, linked at:
http://www.toyota.com/html/hybridsynergyview/2006/fall/battery.html
Search used cars for sale and find the best deals near you at iSeeCars.com.
To get a FREE iSeeCars VIN Report for a car, click here.