With clean-diesel emissions legal in 50 states, now's the best time to be in the market for the Best Midsize Diesel SUVs. In fact, while there are currently only two automakers offering midsize diesel-powered SUVs, there may be more in the near future. Much depends on market demand.
For now, take a look at these two Best Midsize Diesel SUVs.
Mercedes-Benz ML350 BlueTEC – With an EPA-estimated fuel economy rating of 18 mpg city/25 mpg highway, the 2010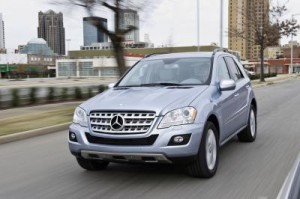 Mercedes-Benz ML350 midsize luxury SUV powered by a 210-hp 3.0-liter turbocharged diesel V6 engine is nearly as fuel efficient as its hybrid sibling ML450's 21/24 rating. ML350 BlueTEC, like all M-Class models (except base ML350), comes standard with 4Matic all-wheel drive (AWD). But the turbo-diesel comes at a price – starting at nearly $50,000. Still, the Mercedes-Benz prestige brand, excellent reliability and safety scores, comfort, spaciousness (although less cargo room than some competitors), ride quality and overall style make ML350 BlueTEC worth a look for those looking for a luxury midsize diesel-powered SUV.
Consumer Guide notes: "Aside from around-town ride comfort that could be better, M-Class is highly refined, rock solid, and engaging-to-drive. The diesel ML320 BlueTEC [note: for 2010, the model is changed to ML350] promises smooth, quiet operation with excellent-for-the-class fuel economy. Despite stiff base and overall prices, M-Class is a solid Recommended pick."
Arizona Republic's Bob Golfen writes: "The ML350 BlueTEC that I drove delivered seamless power without a bit of noisy clatter or oily stink. Whether driving around town or at highway speeds, it was nearly impossible to tell the difference from a gas engine."
Volkswagen Touareg 3.0 TDI – While the Volkswagen Touareg gets a redesign for 2011 (more masculine front end, lower and wider), the 2010 model is still widely available on dealer lots – and should be a great deal for consumers shopping for the diesel-powered Touareg 3.0 TDI. Touareg shares its platform with the Porsche Cayenne and Audi Q7. Previously called Touareg 2, the 2010 Touareg features high style, excellent off-road capabilities with standard permanent 4-wheel drive (4WD) system with low-range gearing, a comfortable and luxurious cabin, and excellent fuel economy in the 3.0 TDI model. EPA-estimated 18 mpg city/25 mpg highway is the same as the Mercedes-Benz ML350 BlueTEC.
Edmunds says: "The 2010 Volkswagen Touareg can get down in the dirt like few other premium SUVs, but even if you venture off the beaten path, this is one satisfying SUV from behind the wheel. Steering is particularly sharp, and braking is above average. The VR6 [base] engine is adequately powerful, but the V6 TDI is well worth the extra cash, providing superior torque and fuel economy."
Kelley Blue Book comments: "The base 3.6-liter VR6 engine provides adequate power and helps the VW Touareg achieve its $41,500 starting price, but the new 3.0-liter V6 diesel is the engine of choice – especially for those who need maximum towing power. Not only does the diesel provide swift acceleration, it also delivers better fuel economy."
Bottom line: Opt for a test drive of either of these two Best Midsize Diesel SUVs if diesel power appeals to you – and you want a luxury SUV.
Search used cars for sale and find the best deals near you at iSeeCars.com.
To get a FREE iSeeCars VIN Report for a car, click here.