Bridging the gap between compact and full-size in more ways than one,  the best midsize SUVs – 2011 appeal to every taste and budget. There are affordable midsize SUVs and those that fall in the upscale or luxury category. That these models are some of the best selling SUVs in 2010 probably doesn't hurt either. Remember, true SUVs – as opposed to car-like crossovers or CUVs – are adept off-road and can tow a small load.
Jeep Grand Cherokee – All-new for 2011, the midsize Jeep Grand Cherokee is that rare blend of excellent off-road prowess and luxury SUV. Four models are available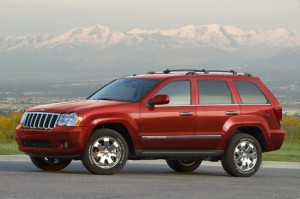 for 2011: Laredo 4×2, Laredo X Package 4×2, Laredo 4×4 and Laredo X 4×4. Standard powerplant is a 3.6-liter V6 mated to a five-speed automatic transmission. Fuel economy is EPA-estimated at 16 mpg city/23 mpg highway on 4×2 models and one mpg down (22) for 4x4s in highway. Maximum towing capacity is 7,200 pounds (Limited), while the rest can to up to 5,000 pounds. Starting manufacturers suggested retail price (MSRP) ranges from $30,215 to $36,215. Road and Track says: "Completely new save for its optional carryover V-8 engine, the 2011 Grand Cherokee has traveled leagues in refinement while not losing its vaunted off-road capability. But don't worry, you'll get used to rock crawling in luxury almost immediately."
Land Rover LR4 – The ability to easily ford streams, traverse rocks and still keep owners smiling is the 2011 Land Rover LR4's strong suit. On-road travel is just as  comfortable, even though LR4 is a true SUV and not a crossover. This midsize luxury SUV can also comfortably seat up to seven adults with optional third row, and that's good for families. Grunt for off-road (as well as smooth highway cruising) comes from a 375-horsepower 5.0-liter V8 engine. The 2011 Land Rover LR4 carries a starting MSRP of $48,500. Consumer Guide observes: "In a class trending toward luxury-crossover SUVs, the tall, off-road-oriented LR4 may seem a bit out of place. In reality, most of the time it is used exactly the way its car-like competition is, and in that capacity, delivers good passenger and cargo room, along with unexpected levels of refinement and comfort."
Lexus GX – Upscale cabin and seating for seven, lots of high-tech safety features, powerful and fuel-efficient 301-horsepower 4.6-liter V8, plus serious off-road
capabilities with standard full-time four-wheel drive, are strong points for the 2011 Lexus GX midsize SUV. Downside is less than stellar on-road capability and limited cargo space behind the third row seats. Starting MSRP is $52,445. Edmunds remarks: "If you're one of those relative few who needs a hard-working SUV that will coddle you in a quiet, plush cabin while busting trails and hauling heavy loads, take the GX 460 for a test drive…and don't worry about stopping should the road end."
Toyota 4Runner – Traditional truck-type construction perfectly lends itself to the 2011 Toyota 4Runner's off-road capabilities – and qualifies it as one of the best midsize SUVs – 2011. Redesigned last year, the fifth-generation 2011 4Runner is available in three trim levels: base SR5, off-road ready Trail, and top-of-the-line Limited. All are powered by a 270-horsepower 4.0-liter V6 engine and five-speed automatic transmission. EPA-estimated fuel economy is 17 mpg city/23 mpg highway (17/22 in Trail). Starting MSRP ranges from $29,675 (SR5) to $39,835 (Limited). With optional third row, 4Runner can seat up to seven (five is standard and Trail can only seat five). Maximum towing capacity is 5,000 pounds, a little less than competitive makes. Cargo volume behind front seats is 89.5 cubic feet (SR5 and Limited) and 88.8 cubic feet in models with sliding deck. Consumer Guide comments: "4Runner works as an off-road SUV, albeit one that carries a stiff price tag compared to the similar purpose Nissan Xterra. Toyota loyalists with true wanderlust, but who think the company's Land Cruiser is too expensive, will find enough to like here."
Search used cars for sale and find the best deals near you at iSeeCars.com.
To get a FREE iSeeCars VIN Report for a car, click here.