We all get a little nostalgic from time to time. Remembering youth is a way of looking back on a simpler time when things were a little less stressful – and a little more fun. Automotive manufacturers have decided to capitalize on consumers' emotional sides by bringing back some old friends, the best modern muscle cars. Not only did they bring them back in name, but they've also reinvented the styling that made muscle cars the meanest looking vehicles on the road. Remember the 1980s when Ford tried to turn the Mustang into a hatchback? Traditionalists were nearly brought to tears just looking at them. It took a while for manufacturers to realize their mistakes and come back to what was working for them nearly five decades ago, but they finally did. Here are the best of the beasts that combine yesterday's looks with today's technology – the best modern muscle cars.
1. 2010-2011 Ford Shelby GT 500          New Model MSRP: $48,645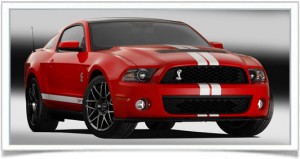 "With an impressive combination of tire-shredding performance, fairly agile handling and a compliant ride, the Ford Shelby GT500 is a winner that also offers classic-era styling and daily-driver livability." The 5.4L supercharged V8 is one of the most powerful in this class, giving the driver 550 horses to play with and moving from zero to 60 mph in just 4.3 seconds. Even with all that power, the huge Brembo disc brakes give this beast all the stopping power it needs, halting from 60 mph in an extremely short 106 feet. Acceleration is there as soon as the pedal is touched and, just like the classic Shelbys, handling is very impressive. On the outside, styling has the feel of all the classic models, on the inside is a different story. All of Ford's latest technological toys come equipped in the Shelby, along with an optional 1,000-watt sound system. Modern muscle doesn't get any better than this. (www.edmunds.com, www.motortrend.com, www.consumerreports.org)
2. 2008-2011 Dodge Challenger          New Model MSRP: $30,860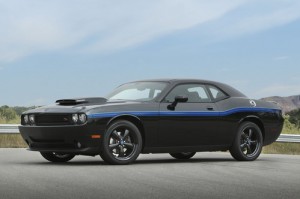 Whoever thought of bringing back the Hemi engine deserves kudos upon kudos upon kudos. The '60s and '70s were the paving grounds for the Hemi's reputation as one of the strongest, most innovative engines to date; bringing it back was a stroke of genius in trying to pull Dodge out of its financial crisis. Though available with a 3.5L V6, true muscle car fans will want the SRT8, packed with a 6.1L Hemi V8 pumping out 425 horsepower. Even with the added power, "the cabin remains blissfully quiet at highway speeds, and the smooth ride makes the miles glide right by." Handling could be a bit firmer, but the Challenger was never known to be tight on corners. Even as a 2-door, the spaciousness of the rear seat remains ample, and the styling will have you transported back to 1970. (www.edmunds.com, www.motortrend.com)
3. 2010-2011 Ford Mustang          New Model MSRP: $22,145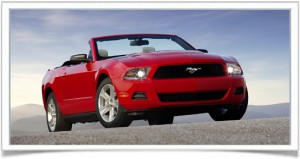 Call this one the Shelby's little brother. Although it doesn't possess the power of most competitors in this class, it still exhibits the classic styling and performance that made the Mustang a best-seller in the early years. And it can be had for more than half what the Shelby costs. The 5.0L V8 isn't a screaming eagle but it still gives more than 400 horsepower and the GT model will get you from zero to 60 mph in 4.8 seconds. Fuel efficiency with the V8 is excellent for this class, estimated to be 18/25 mpg (city/highway). "The Mustang's cabin retains its characteristic retro design while also boasting respectable materials quality." (www.edmunds.com, www.motortrend.com)
4. 2010-2011 Chevrolet Camaro          New Model MSRP: $22,680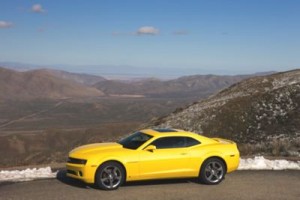 "The Chevrolet Camaro is a head-turning muscle car that goes like stink and will certainly get you noticed. But it also comes with significant trade-offs that can make the Camaro hard to live with on a daily basis." It almost seems like Chevy is trying too hard on this one. Despite a 6.2L V8 that pushes out an impressive 426 horsepower, poor visibility and a very heavy curb weight make the Camaro a shadow of its former self. Stopping distance from 60 mph was an impressive 111 feet and there is still no lack for muscle in this one. Still, it retains a cramped rear seat, uncomfortable interior ergonomics and some poor interior material quality. For the price, however, its still a very fun drive. (www.edmunds.com, www.motortrend.com)
Search used cars for sale and find the best deals near you at iSeeCars.com.
To get a FREE iSeeCars VIN Report for a car, click here.