August is here and its trade-in time for many people. For others, it's just time to bite the bullet and finally make the big investment everyone dreads most – a new car. Either way, you're going to want a safe, reliable car that will leave enough money in your wallet for you to put gas in it from time to time. That being said, let's take a look at the stars of this year's best new cars under $25,000 faction.
1.) 2011 Ford Fiesta Base MSRP: $13,320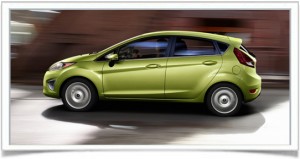 Not big on space but what were you expecting for under fifteen thousand? The Fiesta packs all the features of a mid-size into the space of something smaller than a Honda Fit. Where it lacks in roominess in power, it makes up for in gas mileage and reliability. This year's model also comes equipped with a new version of the electric power steering which is foretold to be the best yet.
Two transmission choices go with the 1.6L 4-cylinder engine, a PowerShift automatic, which can be a bit burdensome on the downshift, and a six-speed manual which drops the fuel economy to 38/29mpg (highway/city), only down from 40/30mpg with the automatic.
But if you're buying a Fiesta, you're probably not as concerned with power as you are with features and you will not be disappointed here. The Fiesta offers more features and add-ons than any other compact in its class. The SYNC infotainment system, push-button starting, adjustable cup holders, and Ford's EasyFuel capless fuel system are just a few of the toys and trinkets that come along with the low price and low maintenance Fiesta.
2.) 2011 Hyundai Sonata Base MSRP: $19,185

Probably the most changed of all the new models, the Sonata packs a new body style from nose to tail, a new engine, and more interior space than previous versions. Now available with the new 2.4L Theta II 4-cylinder engine, it also comes as both a hybrid and a 2.0L Turbo model with gas mileage in the range of 34/23mpg.
Sport-tuned suspension and steering, combined with your choice of 6-speed manual or automatic transmissions, make this one of the most powerful cars of all in its class. And let's not forget the features: push-button starting, power outlets, Bluetooth, and Hyundai's Traction Control System (TCS) with Electronic Stability Control (ESC) are all reasons for putting the Sonata at #2.
3.) 2011 Chevy Malibu Base MSRP: $21,975
The biggest surprise on the list comes in at number three. The new Chevy Malibu is filled with all the gadgets you've come to love from the new models; tilt/telescoping steering wheel, USB interface, rear-DVD system, Bluetooth, OnStar, remote start, there's just one toy you'll have to live without and that's the onboard navigation system. It is not offered in this model. However, the engine and transmission choices haven't changed from previous years; still the 2.4L 4-cylinder and the 3.6L V6 coupled with the 4- and 6-speed automatic trannys.
Chevy decided to do away with the hybrid version of this model, due to slow sales, but gas mileage numbers still remain competitive with the 4-cylinder engine/6-speed transmission combination topping out at 34/26mpg. All other engine/trans combos drop the fuel efficiency, with the bottom end being 17/26mpg for the V6. Still, what it lacks in economy, it more than makes up for in comfort and safety.
To see all cars under $25,000 list, click here.
Search used cars for sale and find the best deals near you at iSeeCars.com.
To get a FREE iSeeCars VIN Report for a car, click here.