The best new compact SUVs are basically crossovers with a little more "oomph!" behind them. They provide everything you come to expect from an SUV in a slightly smaller package. Trading in that little bit of extra space does, however, provide you with a better-handling, more economical vehicle. Space throughout is still very comfortable, even for adult passengers, and fuel efficiency numbers are far better than their bigger siblings. After researching what all the industry experts had to say, including Edmunds (www.edmunds.com), Consumer Reports (www.consumerreports.org), and Kelley (www.kbb.com), we've found the best new compact SUVs available.
1. 2010-2011 Honda CR-V          MSRP: $21,545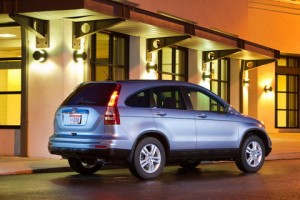 "The compact-to-midsize crossover category seems to gain a member every single day as manufacturers clamor to get a piece of the action. While choices are abundant, we suggest sticking with the Honda CR-V." There truly is no more driver-friendly compact SUV in the road. The cabin design is both elegant and functional. The wide-opening rear doors and adjustable rear seat make it seem much bigger than it actually is. Fuel efficiency is good for an SUV at 21/28 mpg (city/highway) and crash testing has proven it to be way ahead of its class in safety. The lack of an available V6 is the one drawback. (www.edmunds.com, www.consumerreports.org)
2. 2010-2011 Volkswagen Tiguan          MSRP: $23,200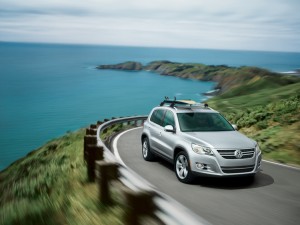 "While other compact crossovers put an emphasis on family-friendly utility, this VW is known for its impressive build quality, high-end interior and sophisticated road manners." If you're looking for superior handling, look no further. The Tiguan glides through corners with very limited body roll and enough high-end torque to make freeway passing a cinch. The electromechanical steering is much tighter than previous models, matching its hydraulic ancestor. It doesn't sport the best cargo space compared to competitors but the rear seat is very maneuverable and provides ample legroom for rear passengers. (www.edmunds.com, www.kbb.com, www.consumerreports.org)
3. 2010-2011 Kia Sportage          MSRP: $16,995

"Let's be clear right up front: The Kia Sportage is a good little crossover SUV. The only problem is that the hyper-competitive compact crossover segment is one of those places where being good might not be quite good enough." It does come with optional 4-cylinder and V6 engines, the 2.0L and 2.7L, respectively, but if you're looking for a better driving experience, stick with the V6. You will sacrifice fuel economy as the Sportage is near the bottom of the class in that area. On the other hand, for safety, legroom and cargo space, it ranks near the top in all categories. Options are ample but can get pricy if you get carried away. (www.edmunds.com, www.consumerreports.org)
4. 2010-2011 GMC Terrain          MSRP: $24,250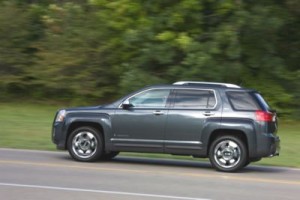 It's surprising to see an American-made model at the top of the fuel efficiency list but the Terrain is definitely there. The available 2.4L 4-cylinder engine can reach 22/32 mpg (city/highway). That drops slightly with the 3.0L V6 but will up the towing capacity to 3,500 lbs. The Terrain's cabin remains very stylish and user-friendly, while the back seat is ample at 31.4 cubic feet, growing to 63.7 cubic feet of cargo space when folded down. The ride quality is not what it needs to be to make the top three, thanks to spongy steering and stiff suspension. Still, the price and fuel economy are a nice start to climbing up the ladder. (www.edmunds.com, www.kbb.com)
Search used cars for sale and find the best deals near you at iSeeCars.com.
To get a FREE iSeeCars VIN Report for a car, click here.