It all pretty much started when engineers decided they could take a military vehicle (the Humvee) and turn it into something suitable for civilians. Thus, the birth of the Sport-Utility Vehicle (SUV). Over the years, the SUV has gotten smaller, more economical and safer. However, if you're a traditionalist, or just a guy who likes to brag about the amount of hair on his chest, you want one of the best new full-size SUVs. They're big; they're brawny; they make you want to grunt when you climb into them. There's something about going smaller that just feels like surrendering. Then again, sometimes you just need the extra space, too. Either way, if you like to stay big and beefy, here are the best new full-size SUVs, rated by industry experts.
1. 2010-2011 Infiniti QX56          MSRP: $56,700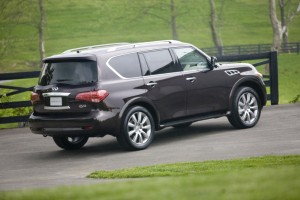 For those looking for everything the old monster SUVs brought, heavy-duty towing capacity, massive cargo space and exemplary features, this is the one you need to check out first. The price tag is a bit hefty, but so are the technologically advanced features. The 5.6L V8 is one of the most powerful in its class, and the QX56 handles more like a sedan than a behemoth truck. "Questionable exterior styling aside, the 2011 Infiniti QX56 is a solid choice among large luxury SUVs." (www.edmunds.com, www.consumerreports.org)
2. 2010-2011 Audi Q7          MSRP: $46,900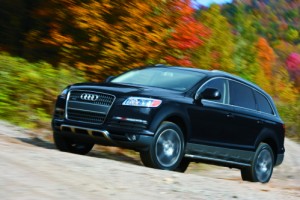 The Q7 sports high-tech luxury and a superior interior design to be one of the best choices for tech-savvy drivers. Aside from the array of gadgets, it remains highly competitive in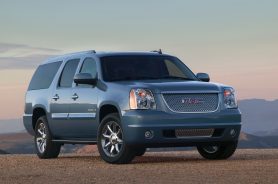 all other areas of driving experience as well. "With its powerful stance, fine build quality and confident performance, it has everything you'd expect from a German-engineered large SUV." The 3.0L clean diesel V6 option is perfect for nature lovers as it provides better fuel economy and a tremendous low-end torque at 400 lb-ft. (www.edmunds.com, www.kbb.com, www.consumerreports.org)
3. 2010-2011 GMC Yukon          MSRP: $38,020
"The GMC Yukon continues as a leading choice for a traditional large SUV thanks to its handsome styling, comfortable cabin and strong towing and hauling capabilities." With a 6.2L V8, the Yukon can up its towing capacity to 8,400 lbs. This may be the better choice, over the 5.3L V8 option, since the difference in gas mileage is fairly negligible. It comes standard with OnStar, rollover sensors and full-length side curtain airbags in all models, with the option of a blind zone warning system available. The steering can feel a little sloppy at times and the third-row seat doesn't fold flat or stow away, which can be a hassle.  (www.edmunds.com, www.consumerreports.org)
4. 2010-2011 Ford Expedition          MSRP: $35,585
"The Ford Expedition is a capable all-around performer thanks to its civilized driving manners, comfortable seating and large passenger and cargo capacities." The 5.4L V8 is lower on horsepower than many other models, at 310 hp, but it more than makes up for it with its torque specifications, allowing the Expedition to boast a 9,200 lb. towing capacity. It is one of the heaviest vehicles on the road but feels much lighter thanks to its responsive steering and smooth ride. The interior could be more driver friendly as the gauge cluster is awkwardly positioned. Ford's Sync system still remains one of the best. (www.edmunds.com, www.consumerreports.org)
Search used cars for sale and find the best deals near you at iSeeCars.com.
To get a FREE iSeeCars VIN Report for a car, click here.