A lot can be said for the economy and stability of small cars.  However, some of us just need more space! We're big, we have big families, we haul lots of junk; whatever the reason, an SUV is the only answer for us and there are some best new SUVs under $25,000. Despite their hefty climb in pricing and their reputation as gas-guzzling environmental killers, SUVs have come a long way over the past 5 years. For one, there was the introduction of the "compact" SUV. While only slightly smaller than their behemoth sisters, most new compact SUVs are much easier on gas and provide several more avenues of luxury and spaciousness. That being said, let's take a look at the best new SUVs under $25,000 for 2011 that won't break your bank:
1) 2011 Kia Sorento Base MSRP: $22,395
Move over SUV ride, here comes the smooth feel of the 2011 Sorento. Whether you're looking for roominess, great gas mileage, tight handling, or tons of features, this one really does have it all. Despite Kia's past reputation for making "throwaway" cars, they've made significant improvements to the Sorento which makes it well worth the under $25,000 price tag.
A new 3.5L V6 engine replaces the previous 3.3L and 3.6L options. The new 3.5L is said to be 30% more efficient than its predecessors and still able to turn out 273 horsepower. The one drawback is that you will get no choice of transmission with the 6-cylinder. Only the 2.4L 4-cylinder engine is available with both 6-speed standard and automatic transmission options.
Kia has improved its interior pleasure package with several options to choose from including heated seats, backup alert and camera, Bluetooth, keyless ignition, leather, and sunroof. Perhaps the most intriguing aspect of the Sorento is its many trim options as well as the ability to choose between 5-seater and 7-seater, FWD or AWD, and the added interior space coming from an extra 3.7" in length and over an inch in width.
With a 2-inch drop in the Sorento's center of gravity it will also handle much better than previous models. All in all, nothing but positives for what was already a well-selling model.
2.) 2011 Ford Escape Base MSRP: $21,060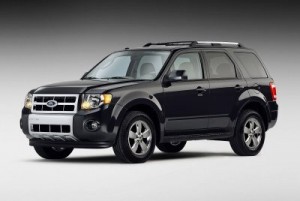 Starting out at a shade over $20,000 makes this sporty little gem seem like a cheap rip-off of one of the luxury models costing twice as much. Nothing could be further from the truth. The Escape stands on its own with several options, great handling, and no major body changes (which should allow it to keep the 5-star crash safety rating earned by its previous models).
Available in both 4-cylinder (2.5L) and 6-cylinder (3.0L) options, this one does not lack for power. However, for those of you who hanker for a choice in transmission styles, you're only getting a manual transmission in the XLS FWD package, which doesn't leave you with too many other options. With the smaller engine, the Escape will see gas mileage in the range of 22mpg highway/18mpg city. The rear seats fold down to provide 67.2 cubic-feet of cargo space and the list of toys is admirable as well: Bluetooth, theft deterrent, rearview camera, satellite radio, GPS, climate control, and heated power mirrors and seats. As with most SUVs you'll also have the option of 2 and 4-wheel drives.
3.) 2011 Jeep Liberty Base MSRP: $23,250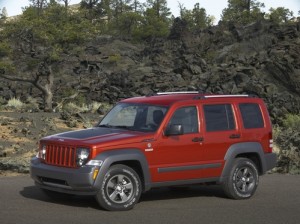 How can you think SUV without thinking of Jeep? We also have to throw a rugged SUV in here for all the guys. The 2011 Liberty doesn't look like a show car, doesn't flash at you like a sports car, and it won't climb mountains like a goat – and it's not supposed to. What it is supposed to do is look great, work hard, and last long enough for the payments to run out. This one should do it all.
It's no secret that Jeep has a reputation for rugged dependability and rightly so. This year, they've mixed rugged with pleasurable. You'll get all the usual Jeep towing capacity, leg room, and low-end torque. You'll also get a nice selection of goodies which includes Mp3 decoder, keyless entry, and heated rearview mirrors. Don't look for several powertrain options; you'll only get the old reliable 3.7L V6 and the 4-speed automatic tranny with overdrive in all models. You will, however, have a choice of 2 and 4-wheel drive. Granted, the 2011 Liberty is not the prettiest girl at the dance, but that's what makes her that much more fun to drive.
To see all SUVs under $25,000 list, click here.
Search used cars for sale and find the best deals near you at iSeeCars.com.
To get a FREE iSeeCars VIN Report for a car, click here.