Let's be realistic for a minute. A vehicle is an investment. Not in the traditional form of the word. The traditional version signifies that you're spending your money on something that will appreciate, something that will make your money grow or provide a greater value for you in the future. Cars don't do that; they depreciate. Your vehicle will never be worth as much as the day you drive it off the lot. As a matter of fact, that first mile you drive it will probably be the most expensive mile you'll ever drive since the value of your vehicle drops as soon as you drive it off the lot. With that in mind, you at least want something that will last long enough to make you feel like you've spent your money wisely. You want something that may not appreciate but will at least last long enough for you to be able to call it a sound investment. While the following SUVs probably won't make your bank account grow, they should be able to be labeled as sound investments. So, let's take a look at the best new SUVs for under $50,000.
1.) 2011 Honda Pilot 4WD Base MSRP: $41,175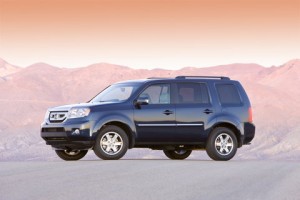 You won't see much change in the looks of this year's Pilot. The last revamping came in 2009 nobody knows when the next one is on the horizon. Despite its recent sales slump, the Pilot continues to be a safe and reliable vehicle that will provide the best of both worlds in an SUV; decent power and acceleration coupled with gas mileage comparable to many midsize sedans at 17/23mpg (city/highway) and the rugged power of 4-wheel drive. It still comes with only one engine choice, the 3.5L SOHC V6 which utilizes Honda Variable Cylinder Management (VCM) system.
Safety and reliability are staples of the Pilot. What is lacks is a nice compromise of its options. It's available in four trim levels, the basic LX; midline EX; premium EX-L; and the upper crust Limited. The navigation system, which was previously only available in the Limited edition, is now also available in the EX-L, but not without a high price tag of $2,000. Honda has also not coupled this option with the rear-seat DVD system which could actually drive some buyers away. Still, the backup camera, heated seats, a third-row seat, and Honda reliability, are definitely enough to keep the Pilot at the top of the list
2.) 2011 Buick Enclave CXL Base MSRP: $39,505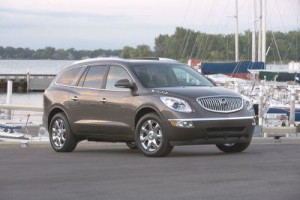 There are cheaper versions of the Enclave, but the CXL is the way to go if you're thinking of a nice SUV in this price range. Available with a 3.6L V6 that pumps out 288 horsepower, coupled with GM's 6-speed automatic transmission with overdrive, the Enclave is rated at 17/24mpg. Perhaps one of the safest SUVs on the road, the Enclave has been given a 5-star crash rating for all four side impact tests and 4 stars in the rollover test (quite good for an SUV of any size).
The list of standard features for the CXL is what makes it the crème de la crème of this class. Heated front leather power seats, XM Satellite radio, parking sensors, StabiliTrak, keyless entry, OnStar and dual heated power mirrors are just the tip of the iceberg.
3.) 2011 Nissan Armada SL Base MSRP: $43,790
Being honest, the Armada is not going to spare your feelings at the gas pump. Its mileage rating of 13/19mpg may scare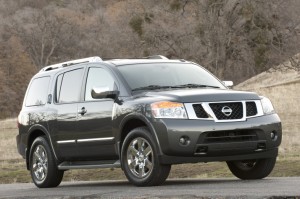 many buyers away. However, don't judge a book by its cover. The Armada sports Nissan's monstrous 5.6L V8, rated at 317 horses. It's also available in both 2 and 4-wheel drive versions so don't expect to get stuck in too many places with this one. This is the SUV to buy if you're looking for traditional SUV performance and spaciousness. With a seating capacity of 8 and a fuel capacity of 28 gallons, this is the vehicle that will make long trips seem shorter.
Standard options include power outlets, power seats, CD changer, keyless entry, tilt wheel, and front and rear A/C. The moon roof and rear DVD are also available but do not come standard on the SL version.
Search used cars for sale and find the best deals near you at iSeeCars.com.
To get a FREE iSeeCars VIN Report for a car, click here.