Finding a truck that can handle your workload, provide a spacious, comfortable cab, and give you any kind of decent gas mileage can be a chore. Finding one in your price range makes it nearly impossible. Fortunately, there are still some trucks out there that will get what job done you need done without taking you to the cleaners in payments or at the gas pump. Typically, anything under the $20,000 mark is not going to be as powerful, roomy, or rugged as some of the big boys. But if you're not working construction, hauling the family across country, and your name's not Paul Bunyan, then you're probably safe with one of the following options. That being said, let's take a look at the best new trucks under $20,000.
1.) 2011 Toyota Tacoma Base MSRP: $16,365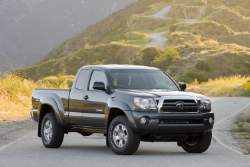 Toyota has been working for years on improving the style, quality, and reputation of their trucks and it's finally paying off. The Tacoma has outsold the competition by at least a 2-1 margin four straight years. That doesn't look to change as this year's model provides only subtle changes. If it ain't broke, don't fix it, right?
The only real mechanical change to the Tacoma comes in the braking system which now incorporates the brake override system. Engine choices are still the 2.7L 4-cylinder and the 4.0L V6. The V6 will come standard in all 4×4, extended cab, and performance packages. Another change comes in the form of standard air conditioning in all models. The Tacoma's engine/transmission combinations will bring gas mileages in the range of 21/25mpg (city/highway) at the best end and 14/18mpg for the V6 with manual 6-speed tranny.
Where Toyota never seems to lack is in the area of options. The Tacoma carries plenty, including: cruise, remote keyless entry, sliding rear window, privacy glass, and a 7-speaker JBL sound system with subwoofer. The one drawback to the sound system is the lack of Bluetooth and a USB hookup for iPods and other mp3 players.
2.) 2011 GMC Canyon Base MSRP: $16,985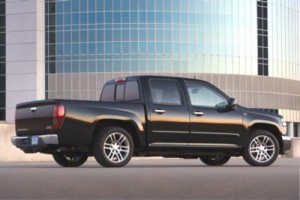 This one comes in at number two only if you're looking for a hard-working truck that will go easy at the gas pump. It is available with the 2.9L 4-cylinder Vortec engine (which is actually quite comparable power-wise with the vehicle's only other option, the 3.7L V6 Vortec). The 4-cylinder option should hit you slightly lighter when it comes time for the weekly fill-up. Only time will tell if GM has improved on the head gasket issues which have accompanied the 3.7L in previous years.
There were no major changes in body style and the list of options is fairly unoriginal as well. Nevertheless, what is available is well worth taking a look at: OnStar, heated front seats, theft deterrent radio, PassLock ignition disable, and Bluetooth are just a few. Gas mileage can reach 18/25mpg with the 4-cylinder and only a slight dip to 17/23mpg with the 3.7L V6. All of these choices coupled with one of the lowest price tags available make the Canyon a very viable option.
3.) 2011 Nissan Frontier Base MSRP: $18,500
Perhaps the meanest looking of all the new pickups, this one is rugged. No body style changes, which leaves the biggest question of all: Why not a longer bed? For all the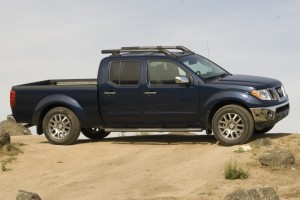 power available in the Frontier, the Crew Cab model still comes with only a 4.9 foot or a 6.1 foot bed. True haulers would hope for more. Despite its lack in length, the Frontier's got it under the hood. Options include the 2.5L 4-cylinder and the strongest V6 in its class, the 4.0L DOHC.
Options remain the same with only renamed packages. Crew cabs will be available with spray-in bed liner, tube-style roof utility rack, and power moon roof. Other features include Bluetooth, leather upholstery, heated front seats, and flip-up rear seat cushions. Gas mileage will vary anywhere from 19/23mpg to 14/19mpg depending on the engine/trans combinations.
Search used cars for sale and find the best deals near you at iSeeCars.com.
To get a FREE iSeeCars VIN Report for a car, click here.