The evolution of the truck has come a long way. Things are not what they once were when shopping for a pickup. For decades a truck simply had to be reliable, tough, and cost-effective. Nowadays, expectations have risen. Trucks are expected to be rugged, yet comfortable; roomy, but crammed with interior options; and, powerful, but fuel-efficient. Trucks now have to be the Sybil of the automotive world, bearing the face of a monster and a baby at the same time. If these expectations sound familiar to your shopping tendencies, you may want to check out the list of the best new trucks for under $25,000.
1.) 2011 Toyota Tundra Base MSRP: $23,935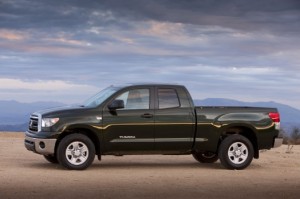 Toyota does not hold the top spot for nothing. This year, they've decided to leave everything alone under the hood, keeping all three V8 options, the 4.6L, the 4.7L, and the 5.7L. Where the Tundra does change is in looks. This year will sport a revamped grille and taillights with three cab options. One of the safest of all the pickups, the Tundra's sturdy frame and electronic stability control are both standard.
Gas mileage is comparable to other models in its class unless you go with the E85 ethanol-gas blend option. The E85 will drop your fuel efficiency to 10/13mpg (city/highway) from 15/20mpg at the high end. Unlike many of its competitors the Tundra will also feature USB linking for iPods, as well as Bluetooth, rear-seat DVD, navigation system, backup camera, Double Cab, and a very large center console with tons of storage throughout the cab. With the next generation Tundra not scheduled to come out till 2014, you're wise to stick with this model while it's hot.
2.) 2011 Ford F150 Base MSRP: $22,000 (estimated, prices not released as of this writing)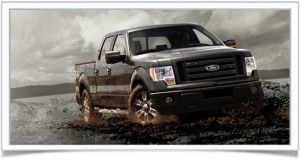 This one is truly a beast! With new engine options across the board the 2011 F150 may have been well worth waiting for. Say goodbye to the 4.6L and 5.4L Triton V8s and say hello to the 3.7L fuel efficient V6 and the monster 6.2L V8. The Harley Davidson edition of Ford's ½-ton model will still be available and will include the new V8 engine. The EcoBoost V6 obviously lacks the towing capacity of the larger engines but Ford could also offer the 5.0L V8 naturally aspirated engine as an option in some lesser-priced models.
There doesn't seem to be too many issues with body style or suspension (unlike previous years) and the list of toys and gadgets is astounding. For those of you looking for a tough truck on the job, Ford is offering an in-dash computer fully equipped with mouse and wireless Internet access as well as Ford's optional Tool Link to keep a standing inventory of all tools onboard.
Fuel economy (if it can be called such a thing in a full-size pickup) has improved over the years but don't look to drive cross country with the new 6.2L unless you're looking to rack up some serious reward points on your gas card. Mpg ratings range from 16/23mpg to 14/18mpg. Still very respectful for the amount of truck you'd be piloting.
3.) 2011 Chevy Silverado 1500 Base MSRP: $20,850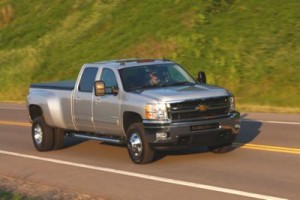 Classic style with traditional strength and reliability make the Silverado a fair choice at the price range. GM's bankruptcy crisis has scared away sales and left little money for new research. As it turns out, the Silverado may have benefitted from this by finally leaving things alone. Several engine options are repeated this year with the standard 4.3L V6 and V8 options including the 4.8L and the 5.3L. Expect it to retain the 10,600 lb. towing capacity as well.
Gas mileages range anywhere from 14/18mpg to 15/22mpg depending on engine/trans/2×4 and 4×4 options. There is also a hybrid version available which boasts 21/22mpg in both two and four-wheel options. Chevy has also kept its lengthy list of features for this model, including OnStar, anti-skid, truck boxes, sport handling, and the only four-wheel drive system that can remain engaged on all surfaces.
To see all cars under $25,000 list, click here.
Search used cars for sale and find the best deals near you at iSeeCars.com.
To get a FREE iSeeCars VIN Report for a car, click here.