Let's say you take a trip to your local car dealership. You tell the first salesperson you see, "I'm looking for the best small cars you have available." Next thing you know, he's pushing you up to a midsize sedan or bigger, well out of your price range; or, he/she is trying to fit you into the cheapest sardine can available that's been sitting on the lot since the invention of the wheel. Thanks to the overabundance of this particular line, it's very difficult to find an affordable, reliable small car that doesn't leave you having to sit in the back seat to drive it or see it breaking down weekly due to cheap materials. Luckily, you have us. After extensive research on one of the most copious lines being made today, here are the best small cars to fit your budget and your overall driving experience.
1. 2008-2011 Mazda 3         New Model MSRP: $15,345
You can't say much for the Mazda 3, because it does all the talking on its own. "Much has changed, but the Mazda 3 remains more entertaining and sophisticated than its price tag would suggest. If you're shopping for a small, inexpensive sedan or hatchback, it should be at the top of your list." It sports a handling and performance that can usually only be found in pricy sports models. Body roll is limited and the grip is superb on twisting roads. The available 2.5L 4-cylinder engine is the same one that powers the Mazda 6. It's not as fuel efficient as some of its competitors (22/29 mpg), but acceleration is vastly improved. It's a top choice all-around. (www.edmunds.com, www.consumerreports.org)
2. 2008-2011 Ford Fiesta          New Model MSRP: $13,320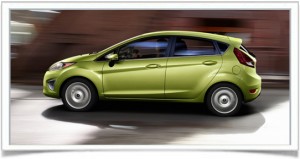 It's taken a while for an American car manufacturer to put a compact car on the market that could compete with foreign models. With the Fiesta, Ford not only competes, they're pushing for the top spot. Trunk space (12.8 cubic feet), fuel efficiency (30/40 mpg city/highway) and sporty dynamic handling are all on par with many of the top competitors. "With its soft-touch dash top, metallic accents, edgy styling and tight build quality, the Fiesta's cabin has a premium vibe to it that's unexpected in an economy car." Trim levels are not as plentiful as some others, but the quality of available features is comparable to many larger models costing twice as much. (www.edmunds.com, www.consumerreports.org)
3. 2007-2011 BMW 1 Series          New Model MSRP: $29,150
"Its styling won't suit everyone, but the BMW 1 Series undeniably offers a very appealing combination of performance and refinement in either coupe or convertible form." The lack of interior space and the monster price tag keep it lower on the list, but it is a BMW after all. With that comes very nimble handling, smooth performance and luxurious interior options. It also sports a better-than-average warranty at 4 years/50,000 miles. The 3.0L inline-6 engine gets a fair fuel economy at 18/25 mpg (city/highway) but it will get you from zero to 60 mph in only 5.1 seconds. Though technically a 4-seater, you won't want to put anyone bigger than a child in the rear seat. (www.edmunds.com, www.motortrend.com, www.consumerreports.org)
4. 2008-2011 Kia Forte          New Model MSRP: $16,595

Think economy instead of performance and you've got the Forte. It has excessive body roll, a wide gear spacing in the transmission and questionable handling. However, the fuel economy is unsurpassed at 27/36 mpg, and the warranty (5 years/60,000 miles) will keep it on the road without repair costs for a long stretch of time. Rear seating capacity and trunk space (14.7 cubic feet) are both impressive for this class but the interior remains rather bland. The addition of Bluetooth technology is a step in the right direction but more trim options need to arise for it to move up the ladder. Still, it's one the most economic options out there. (www.edmunds.com, www.consumerreports.org)
Search used cars for sale and find the best deals near you at iSeeCars.com.
To get a FREE iSeeCars VIN Report for a car, click here.