There are four-door sedans, and then there are four-door sports sedans. Just a little extra emphasis there because the best sports sedans pack a little extra something themselves. They pack a little extra excitement, a little extra feedback, that little bit of extra muscle that makes them so much more fun to drive. Even with all that extra fun, they are roomy enough to seat an entire family, and comfortable enough to make long trips seem not so long. Knowing that you'd probably want to know which sports sedans are the best sports sedans of the 2010-2011 model years, we've perused the usual top-notch research at Car and Driver, Consumer Reports, Edmunds, and Motor Trend, to bring you that list.
1. 2011 BMW 3 Series          New Model MSRP: $33,650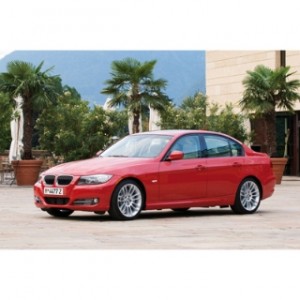 No matter which one of the 3 Series you choose, you'll get the turbocharged 3.0L V6. This is definitely not a bad thing. It is unbelievably smooth in its acceleration and the AWD option makes it tenacious through corners. This one is just all-around fun to drive. As long as you opt for the Sport package, you'll forget you're even driving a sedan. Even with the added pep, the 3 Series suspension remains supple, even on long cruises, and the cabin remains surprisingly noiseless. Materials and build quality are excellent, and the Sport package even garnishes more comfortable seats.
2. 2010 Infiniti G37          New Model MSRP: $33,250 
Though the four-wheel active steering option has been discontinued, the G37 remains fairly unchanged mechanically. The 3.7L V6 engine growls with 328 horsepower, and the G37x adds AWD to provide superior handling. "This well-sorted Infiniti attacks curves with aggression and precision, yet it remains poised and compliant when driven over less-than-perfect pavement. Think of it as a world-class athlete in evening wear. Steering feel is commendable, particularly with the quicker of the two available ratios (optional on sedans). This sporty setup provides excellent feedback and a pleasant weightiness that builds progressively when cornering." (www.edmunds.com)
3. 2010-2011 Audi S4          New Model MSRP: $46,600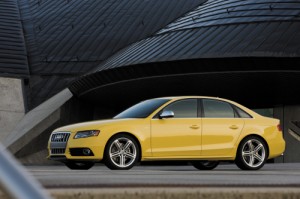 The S4 no longer comes with the V8 option, but that's actually quite alright. The supercharged 3.0L V6 lacks nothing in the way of guts, and will rocket the S4 to 60 mph in just 4.9 seconds. Even with the supercharger, this Audi will manage an EPA-estimated 18/27 mpg (city/highway), which is well above average for this class. The cabin features one of the most intuitively-laid-out control panels of all sedans, though the older design of the Multi-Media Interface (MMI) is a drawback. Trunk space is also only average at 12 cubic feet.
4. 2010-2011 Jaguar XFR          New Model MSRP: $79,600
Just looking at the Jaguar screams sleek and sporty. Then you take it for a test drive and…well, hold on! The supercharged 5.0L V8 isn't much for fuel economy but you'll be at 60 mph in just 4.5 seconds. If you take the family dog on drives, make sure it doesn't stick its head out the window, it's liable to lose an ear. Even with all that power, the XFR sports surprisingly good braking, stopping from 60 mph in just 106 feet – a distance typically reserved for more high-performance vehicles. The steering is light and can feel rather numb, but still leaves the Jag very fun to drive. Just be prepared to pay the price for it.
Search used cars for sale and find the best deals near you at iSeeCars.com.
To get a FREE iSeeCars VIN Report for a car, click here.