The full-size SUV is not quite a dinosaur yet. Though its popularity has waned with the advent of the crossover, there are still plenty of the big boys left to choose from. Knowing which are the best for the money, however, can be a difficult and far more time-consuming venture. Though their popularity has decreased slightly, their prices haven't seemed to follow suit. As such, you'll want to find those ever-elusive needles in the haystack which are the best SUVs for the money. All models are for the 2011 model year and all research is taken from top automotive resources at Car and Driver, Consumer Reports, Edmunds, and Motor Trend.
Best Power Option:
2011 Chevrolet Suburban        New Model MSRP: $40,925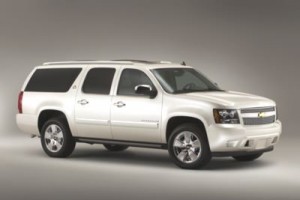 The Suburban is one of the old guards of the monster SUV class. It's a massive full-size SUV with loads of cargo and passenger space, as well as one of the best maximum towing capacities of any SUV at 9,600 pounds. There are two available engine choices, the standard 5.3L V8 and the 6.0L V8, both of which are flex-fuel engines. Cargo capacity can reach a maximum of 137 cubic feet, but that would require the removal of the bulky third-row seat; a task that is both strenuous and awkward. Still, the Suburban does handle and perform surprisingly well for a three-ton vehicle.
Best Comfort & Cargo Option:
2011 Mazda CX-9        New Model MSRP: $29,135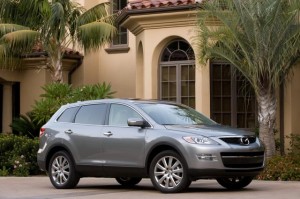 The CX-9 offers some of the best passenger space of any SUV in all three rows. Though the headroom in the third-row seat is limited, legroom and seating are adequate throughout. With both rear seats folded flat, this Mazda boasts an overall cargo capacity of 101 cubic feet, and access to the third-row seat comes easily thanks to large openings for the rear doors. The second-row seat adjusts fore and aft, a feature left out of some competitors' models, as well as reclines. Its suspension and graceful ride make it a perfect vehicle for long road trips.
Best Economical Option:
2011 Toyota Highlander        New Model MSRP: $27,540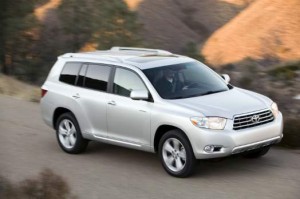 "The 2011 Toyota Highlander's V6 engine, versatile interior and carlike maneuverability make it a good choice as a do-all family vehicle." (www.edmunds.com) Though options and trim choices can get the MSRP climbing pretty quick, it still remains the most economical option available. It features an attractive cabin, excellent visibility, and an extremely comfortable second-row seat. The third-row lacks some legroom, but remains supportive and comfortable. If you're accustomed to the truck-like lumbering feel of most larger SUVs, the Highlander will be no change in driving experience for you.
Best Luxury Option:
2011 Infiniti QX56        New Model MSRP: $57,850
Like most third-row seats, the QX56's is somewhat cramped; that's really the only bad thing we can say about it. It's powerful with its 5.6L V8 engine, garnering a maximum towing capacity of 8,500 pounds; it's luxurious interior is covered in leather or rich wood trim; and, the optional Hydraulic Body Motion Control system works as well as advertised, keeping body roll to nearly nil. Opting for the active suspension may not be the best idea, however, as it comes with low-profile 22-inch wheels, which diminishes the overall ride quality.
Best All-Around Option:
2011 Buick Enclave        New Model MSRP: $35,615
The Enclave is on the small side for a large SUV, but that's what gives it its minivan functionality and overall appeal. It possesses a luxurious interior for its lower-than-luxury MSRP, and its smooth, quiet ride will lull passengers right to sleep. Its maximum 116 cubic-foot cargo capacity is right on par with competitors, but the third-row seat can seem rather claustrophobic for larger passengers. Handling is stable and secure, and the compliant suspension and roomy interior make it shine on long road trips. Options are both plentiful and affordable.
Search used cars for sale and find the best deals near you at iSeeCars.com.
To get a FREE iSeeCars VIN Report for a car, click here.