Sometimes one back seat just isn't enough. Maybe you've got three or more kids. Maybe you've got three kids and a live-in mother-in-law. Or perhaps you just have teenagers who want to sit as far away from you as humanly possible. Then again, maybe you like to carpool, take long vacations with friends, or just have a night out on the town with the group. Or you may just need the extra hauling space. Whatever the reason, sometimes a standard SUV just isn't enough. Sometimes you need the comfort of the SUV with 3rd row seating. Sure, sometimes you feel like the school bus driver, but it does beat having to take two vehicles to one destination. Without it, the mother in law would just have to sit on the roof rack when travelling to Jimmy's soccer game or Jenny's dance recital. So, before you pull out the bungee straps for Mom, here's a look at the best SUVs with 3rd row seating for the past couple years.
1. 2010 Toyota Sequoia Base MSRP: $40,005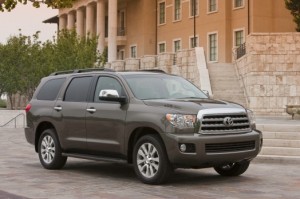 Toyota is currently making one of the best pickups in the business. They've transferred much of that technology and innovation to their SUV line. The Sequoia carries the 4.6L V8, the same engine that powers the hard-working Tundra. One of the biggest of the 3rd-row SUVs, this one will get up and go when you need it. It is also available in both 2- and 4-wheel options with a variety of trim choices. It's not luxury, but it is without a doubt comfort. The warranty is fairly standard at 3 years/36,000 miles, but Toyota has recently developed a reputation for reliability so this should be sufficient. This is definitely one of the most spacious SUVs you will find on the road.
2. 2010-2011 Ford Flex MSRP: $29,850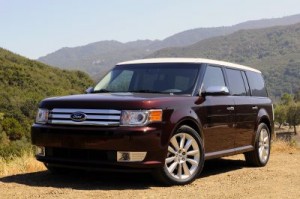 Not the prettiest girl at the dance, unless you're into the cardboard box look, but the Flex is definitely top of the line if you're looking for comfort and space. This is another SUV that comes standard with a V6 engine, sporting the 3.5L, and is available as both 2WD and AWD versions. The upper trim line versions also come with Ford's Ecoboost, not quite turbo but a definite pick-me-up to an already peppy engine. Space is definitely not an issue as the box-type look provides a much better rear storage compartment and more leg room in the 3rd-row seat. Gas mileage and warranty are both on par with the average at 17/24mpg (city/highway) and 3 years/36,000 miles, respectively.
3. 2010-2011 Honda Pilot 2011 MSRP: $28,825
After spending several years developing the best selling automobile around, the Accord, Honda has redirected their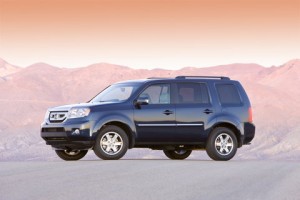 attentions of late to the design and manufacture of SUVs, and the Pilot is leading the way. It is a true 8-passenger vehicle with better off-road capabilities than any minivan and most of its competitors. It also utilizes fold-down seating for both rear seats, allowing for much better hauling capabilities. With a dozen different trim options, the Pilot also comes as both 2-wheel and 4-wheel drive. The 3.5L V6 keeps a little extra cash in your wallet as well, getting 17/23 mpg.
To see all 3 row SUVs list, click here.
Search used cars for sale and find the best deals near you at iSeeCars.com.
To get a FREE iSeeCars VIN Report for a car, click here.