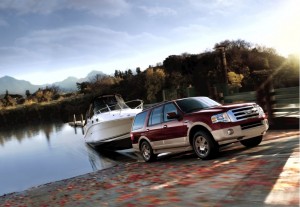 Got a boat to haul or a trailer to tow, plus a few family members or friends and their assorted gear? You need a vehicle that's comfortable, capable and can handle the size load you need to tow. A great place to look is among used SUVs.
Here we take a look at some of the best used SUVs for towing. Of course, there are different needs for different consumers, but these are excellent choices from which to select.
2011 Ford Expedition/Lincoln Navigator – Powered by a 310-horsepower 5.4-liter V8 engine and standard six-speed automatic transmission, the Ford Expedition and upscale corporate twin Lincoln Navigator are capable of towing up to 9,200 pounds. With 365 pound-feet of torque, that's some serious towing power in comfortable, user-friendly full-size SUVs that also handle well and offer numerous optional tech features. Pricing on Ford Expedition ranges from $24,995 to around $37,345 and on the Lincoln Navigator from $27,999 to $41,995.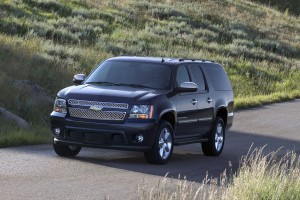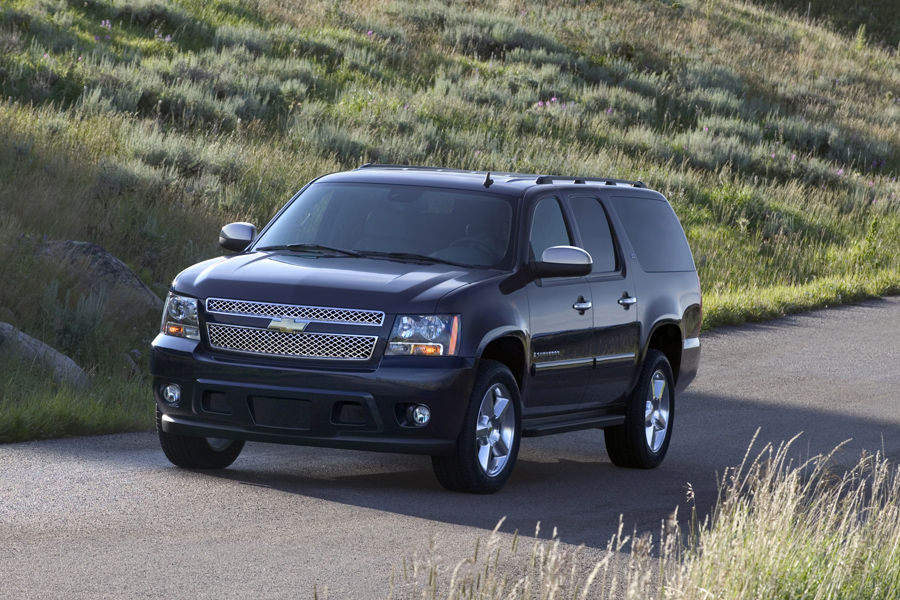 2011 Chevrolet Suburban 2500, GMC Yukon XL 2500 – The three-quarter-ton 2011 Chevrolet Suburban and GMC Yukon XL, called Suburban 2500 and Yukon XL 2500, respectively, can tow a maximum of 9,600 pounds. There's some serious power packed into the 352-horsepower 6.0-liter Vortec V8 – plus, you can transport up to nine passengers. Fuel economy may be miserly, but when you need to tow, you need to be able to go. Pricing is in the $33,996 to $38,977 (Suburban 2500) and $29,994 to $41,009 (GMC Yukon XL).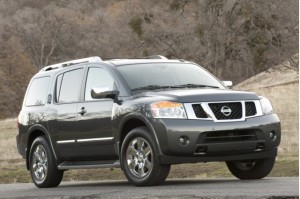 2011 Nissan Armada – When properly equipped, the 2011 Nissan Armada can to up to 8,200 pounds in two-wheel drive and 9,000 pounds in four-wheel drive (in SL and Platinum models). Maximum towing capacity in the Armada SV with tow package is 8,200 (two-wheel drive) and 6,500 (in four-wheel drive). The Armada carries up to eight passengers and is powered by a 317-horsepower 5.6-liter V8 engine. Look for pricing ranging from $22,800 to $31,995.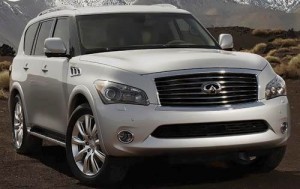 2011 Infiniti QX56 – Completely redesigned, the 2011 Infiniti QX56 only carried that name for the 2011 model year. From 2012-2013, the large luxury SUV was called simply Infinity QX. Fast-forward to 2014, and it is the QX80. Go figure. For a used SUV with capable tow ratings, check out the 2011 Infiniti QX56 and its 8,500-pound maximum tow capacity. Need sufficient power to tow a boat to the lake? The combination of 400-horsepower 5.6-liter V8 engine mated to a seven-speed automatic transmission does the trick. Prices range from around $34,995 to the vicinity of $45,750.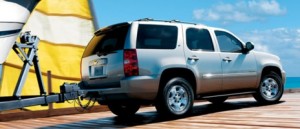 2011 Chevrolet Tahoe, GMC Yukon –  These full-size SUV corporate siblings have seating for up to eight and a maximum towing capacity of 8,500 and 8,200 pounds, in two-wheel and four-wheel drive, respectively. The 2011 Chevrolet Tahoe and GMC Yukon can handle most of your on-road (and off-road) towing demands while everyone rides in comfort and style. Power comes from the more than capable 320-horsepower Vortec 5.3-liter V8 engine that delivers 335 pound-feet of torque, matched with six-speed automatic transmission. Look for pricing ranging from around $24,999 to $40,000 (Chevy Tahoe) and $20,000 to $41,999 (GMC Yukon).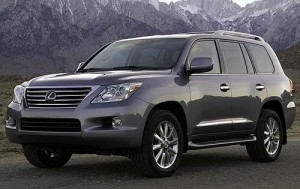 2011 Lexus LX 570, Toyota Land Cruiser – One of the most luxurious vehicles Lexus makes is the Lexus LX 570 full-size luxury SUVs. This big and capable SUV is heavily related to the Toyota Land Cruiser, and shares the same 383-horsepower 5.7-liter V8 connected to a six-speed automatic transmission.  Besides all the bells and whistles and standard luxury touches, what consumers need to know is these luxury SUVs can tow up to 8,500 pounds. Prices are on the high side, ranging from $52,910 to $61,982 and higher.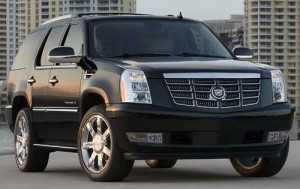 2011 Cadillac Escalade – With its distinctive looks and civilized road manners, the 2011 Cadillac Escalade also has the ability to tow up to 8,300 pounds. This is slightly less than the Chevrolet Tahoe and GMC Yukon, but more than adequate for luxury buyers who can afford to lose a couple hundred pounds of towing capacity and still seat seven in posh luxury. The 6.0-liter V8 engine is gutsy, pounding out 403 horsepower and 417 pound-feet of torque, paired with standard six-speed automatic transmission with manual shift feature. Pricing ranges from $38,491 to $51,995.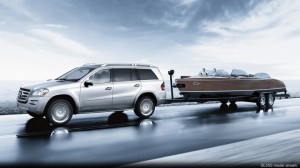 2011 Mercedes-Benz GL550 – For luxury, power and performance – and the ability to tow up to 7,500 pounds (with optional Class IV trailer hitch kit), check out the 2011 Mercedes-Benz GL550 full-size luxury SUV. Power comes from a 382-horsepower 5.5-liter V8 engine paired with a seven-speed automatic transmission with paddle shifters. Look for pricing in the $43,999 to $45,900.
Search used cars for sale and find the best deals near you at iSeeCars.com.
To get a FREE iSeeCars VIN Report for a car, click here.