Are you looking for the best used SUVs under $10,000? Although you may think you're limited to a decade-old model, there are really many choices available in this price range in compact, midsize and large SUVs. You just need to do your homework, find the models that fit your needs, have them professionally inspected, obtain a vehicle history report, and negotiate your best deal.
Consumer Reports is our first choice for a source for the Best Used SUVs Under $10,000. Their report, "Best Used Vehicles Under $20,000," lists SUVs in the $6,000-$8,000 and $8,000-$10,000 price range that fit the bill. We've chosen the latest models we could find on the list, and included comments from auto reviewers as well as Edmunds True Market Value (TMV) for each model and year listed.
Check out these picks for Best Used SUVs Under $10,000:
2005 Hyundai Tucson – The first-generation 2005 Hyundai Tucson is a compact, 5-passenger, car-based

SUV with lots to offer consumers searching for an inexpensive 'ute. Edmunds says, "In reviews, we praised the first-generation Tucson for its roomy interior and generous list of standard comfort and safety features. When the 60/40 split rear seat was folded flat, it opened up a respectable 65 cubic feet of cargo space – more than the second-generation Tucson." Edmunds TMV for this model ranges from $8,390 (GL) to top-of-the-line LX at $10,845.
2004-2005 Ford Escape – Compact in class but big in value, the 5-passenger 2004-2005 Ford Escape is also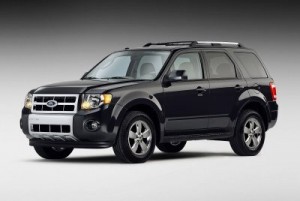 a Consumer Guide Best Buy. The publication comments: "…these Best Buy compact SUVs are solid, spacious, and pleasant to drive." For 2005, Escape featured refreshed styling, larger base engine (153-hp 2.3-liter 4-cylinder), and added safety features (available curtain side airbags). Edmunds TMV for 2004 models ranges from $6,754 (XLS) to $9,150 (Limited), while 2005 models fitting the price range go from $8,200 (XLS) to $10,522 (XLT Sport). Other trims are higher.
2004 Hyundai Santa Fe – Another Hyundai SUV, the midsize Santa Fe, is another good choice for families. Edmunds remarks: "…Santa Fe offers a consumer-friendly blend of space, comfort, features, performance, and value that make it…worth considering." Edmunds TMV for the 2004 Santa Fe runs from $6,759 (Base, FWD, manual) to $9,188 (LX, AWD, automatic).
2004 Mitsubishi Outlander – The compact 2004 Mitsubishi Outlander, based on the Lancer subcompact car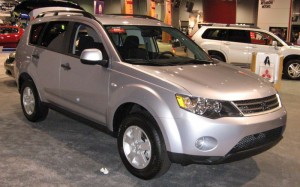 platform, received a power boost with the 160-hp 2.4-liter inline 4-cylinder engine. Available in front-wheel drive (FWD) or all-wheel drive (AWD), Outlander provides all the basics: comfort, roomy interior, sufficient power, solid handling, and good ride. Ann Job, writing for MSN Autos on the 2003 model, commented: "Mitsubishi's first entry-level crossover vehicle is a laudable new competitor in a very busy segment. The Outlander shines with versatility, a pleasing car-like ride and standard Sportronic transmission." Edmunds TMV for the 2004 model ranges from $7,617 (LS, FWD) to $8,861 (XLS, AWD).
2003 Subaru Forester – This second-generation compact SUV features a 165-hp 2.5-liter flat 4-engine.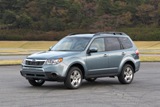 Consumer Guide remarks: "Another car-based mini-SUV, Subaru Forester is a Recommended choice. Like the [Honda] CR-V it doesn't have a low range for serious off-road use, but it blends excellent on-road manners with SUV styling." Edmunds TMV for the 2003 Subaru Forester ranges from $7,618 (X, AWD, manual) to $9,273 (XS with premium leather package, AWD, automatic).
If you're set on a good used Ford or Chevy full-size SUV, check out the 2001-2002 Chevrolet Tahoe or the 2002 Ford Expedition.
See a list of all currently available used cars under $10,000.
Search used cars for sale and find the best deals near you at iSeeCars.com.
To get a FREE iSeeCars VIN Report for a car, click here.