If you enjoy having the thrill of power at your fingertips, you're going to want to pay attention to this category. Throw economy and fuel efficiency out the window, strap up that seat belt, and hang on; we're checking out the best V8 cars. No, when we say V8 we're not talking about the vegetable juice that only the insanely-nutritionally-minded or taste-bud deprived people will drink. We're talking about cars that have some meat and potatoes under the hood. All information was taken from only the most reliable sources at Car and Driver, Consumer Reports, Edmunds, and Motor Trend, to bring you the list of the best V8 cars for the 2010-2011 model years.
1. 2010 Mercedes Benz S550          New Model MSRP: $91,600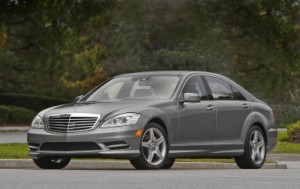 The S550 is not as powerful as its 5.5L displacement makes it sound; it actually walks a perfect line of just powerful enough. Acceleration is ample, moving from zero to 60 mph in 5.7 seconds, and the seven-speed automatic transmission is smooth and fluent. Steering is precise and the Airmatic suspension leaves the S550 feeling smaller than what it is. But the highlight of this particular vehicle is its interior. Materials quality doesn't get any better and comfort is at a premium. Both front and rear seats can be equipped to heat you, cool you, or massage you; and at 16.2 cubic feet, the trunk will haul a lot more than just your jumper cables and spare tire.
2. 2011 Audi A8          New Model MSRP: $78,050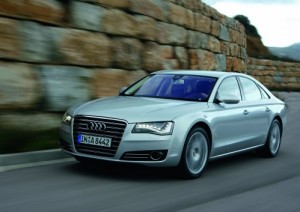 The redesigned A8 is one of the most driver-focused luxury sedans in the world. Its 4.2L V8 has increased power output slightly to 372 horsepower and 328 lb-ft. of torque. That power is directed to Audi's AWD system, which is a 40/60 power distribution; 40% to the front wheels, 60% to the rear wheels. Through Audi's Multi-Media Interface (MMI), this distribution can be changed to send up to 80% of that power to the rear wheels when needed. The dashboard features a new trace-pad system which reads fingertip gestures as letters and commands. This is paired with Google Earth navigation and a 1,400-watt Bang & Olufsen sound system to put the cherry on top.
3. 2011 BMW 750i          New Model MSRP: $82,500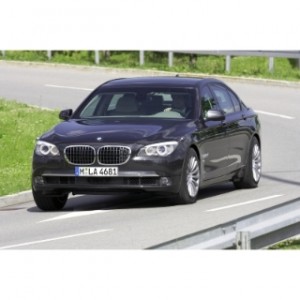 The 750i is powered by a 4.4L twin-turbo V8 that is flat-out beastly. With 400 horsepower and 450 lb-ft. of torque, it will move this very roomy sedan from zero to 60 mph in just over five seconds. Fuel economy actually stays quite impressive for such a monster engine, estimated at 15/22 mpg (city/highway). The Driving Dynamics Control mode of the BMW iDrive interface will allow you to adjust the minor delay in acceleration from the time the gas pedal is pressed to the time the car actually begins to move, but the interior is so luxurious that you may just want to sit and enjoy it for a little while.
4. 2011 Ford Shelby GT500          New Model MSRP: $48,645
It was going to be hard to improve on the 2010 Shelby, but Ford managed it. The new V8 engine was cast with an aluminum block, versus the previous iron version, shaving more than one-hundred pounds of weight off the front end. This improved the Shelby's handling and acceleration. It is also more fuel efficient than previous models, being estimated at 15/23 mpg. Not only will it get you from zero to 60 mph in just 4.3 seconds, it can get you through the quarter-mile in just a shade over 12 ticks. That's not saying it's recommended, speeding tickets can be expensive and accidents are even worse; but the huge Brembo brake system will bring you to a dead stop from 60 mph in just 106 feet, helping you to avoid both.
Search used cars for sale and find the best deals near you at iSeeCars.com.
To get a FREE iSeeCars VIN Report for a car, click here.