There's something about hitting the gas pedal and knowing that you've got hundreds of ponies at your disposal under the hood. You don't want to just cruise, you want to fly off the line. You want power. If this is you, then you want one of the best V8 cars. Feeling the rumble and thrust of a V8 engine is one of the enjoyments of driving in the first place. But just any V8 car won't do. It has to have the toys, too. It should not just satisfy your thirst for power. It should be reliable, comfortable and handle like it's driving itself. There's only a few cars out there that can match the performance in all those areas and we've found them. After extensive research and testing, here are the best V8 cars available.
1. 2010-2011 Mercedes Benz S550          New Model MSRP: $91,600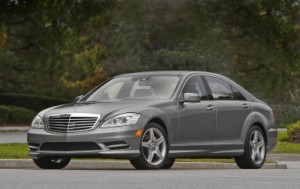 If you're looking for V8 power in a sedan, you won't get much better than the S550. The 6.2L V8 is one of the most powerful in this class and, coupled with the 7-speed automatic transmission, will take riders from zero to 60 mph in 5.2 seconds. Braking distance is an astounding 108 feet, stopping from 60 mph. Craftsmanship and attention to detail are both staples of this automobile and both front and rear seats can be equipped to heat or cool passengers. Trunk space is an ample 16.2 cubic feet, more than enough for hauling golf clubs, coolers, groceries or just about anything else you need to tote around. (www.edmunds.com, www.consumerreports.org)
2. 2010-2011 Audi A8          New Model MSRP: $74,550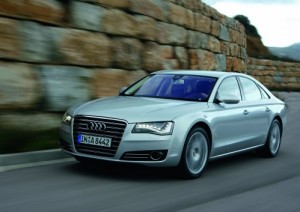 "Despite its substantial size, this is a quick luxury sedan. Either version can hit 60 mph in the low 6-second range and cover the quarter-mile in the low 14s." Even with all the power, the A8 handles like a dream. The air suspension feels fine in automatic mode but the Dynamic setting will tighten body control up to an unnoticeable light roll. Priced thousands less than the S550, the A8 provides just as much interior luxury and convenience. Its available in two trim models, standard and long wheelbase. You'll need at least a few minutes to play with all the toys and gadgets before you even pull it out for the first test drive. (www.edmunds.com, www.consumerreports.org)
3. 2010-2011 BMW 750i          New Model MSRP: $82,000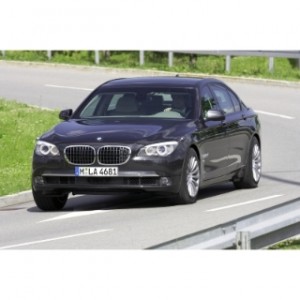 Even though it comes with an optional V12 engine, the 4.4L turbocharged V8 is too much fun to pass up. Fuel efficiency is never typically a concern for those searching for a V8 sedan, but it remains decent at 15/22 mpg (city/highway). "With the standard twin-turbo V8 under the hood of the 750i, drivers are rewarded with a flood of torque with little or no perceptible turbo lag. There is a slight delay from the time you apply pressure on the gas pedal to when the big sedan begins to move, but you can fix this by selecting a higher Driving Dynamics Control mode." (www.edmunds.com, www.kbb.com, www.consumerreports.org)
4. 2009-2011 Lexus LS460          New Model MSRP: $65,380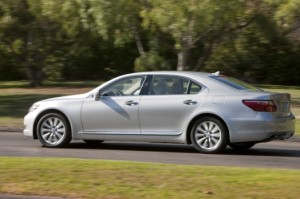 The best priced sedan of this class, the LS460 certainly doesn't seem like its lacking much in the way of power or luxury. The 4.6L V8 engine and eight-speed transmission will pump out 380 horsepower and 367 lb-ft. of torque. "The Executive-Class Seating package takes rear comfort to absurd levels with a 45-degree seat recline, lumbar massage and a footrest. Outside of the LS, you'd need to step up to a Maybach or Rolls-Royce to be coddled like this." Grabby brakes with a subpar stopping distance are really the only drawbacks to this Lexus flagship. (www.edmunds.com, www.consumerreports.org)
Search used cars for sale and find the best deals near you at iSeeCars.com.
To get a FREE iSeeCars VIN Report for a car, click here.