By all rationale, the best V8 SUVs were supposed to be dinosaurs by now. Arguments that they're unsafe, pollute the atmosphere and hog crude oil resources have all been made against them. However, manufacturers have realized one thing – they sell. People still love the extra room and power that comes along with an 8-cylinder SUV. And, thankfully, manufacturers have not totally ignored the detractors. They've worked hard to make these behemoths easier on fuel, safer and given them even better pollution control systems. So, if you haven't given up on having some extra seating and hauling capacity, take a look at the best V8 SUVs.
1. 2010-2011 Infiniti QX56          New Model MSRP: $56,700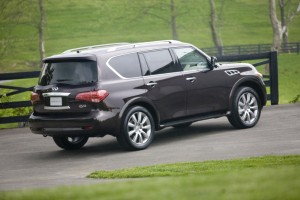 Setting the standard for a luxury SUV with power, the QX56 combines a roomy interior, 5.6L V8 muscle and a towing capacity of up to 8,500 pounds when properly equipped. Adding the tow package will get you a tow/haul mode for the transmission as well as an automatic rear suspension leveling system. Despite a hefty curb weight, it still manages to make it to 60 mph in 6.8 seconds and the optional Hydraulic Body Motion Control system keeps body roll to a minimum even on tight corners. A very handy feature which comes with the Deluxe Touring package is the ability for the driver to remotely fold the second-row seats down, making the third-row seat more accessible. This is a very handy feature on rainy days or for when larger passengers need to access the third-row seat. (www.edmunds.com, www.kbb.com, www.consumerreports.org)
2. 2010-2011 BMW X5 M          New Model MSRP: $85,500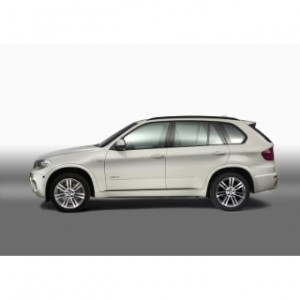 At first glance, it's hard to believe this is a V8 SUV. It doesn't possess the giant bulky frame of most larger sport utilities, but it most definitely has a powerful 4.4L V8 pumping out an amazing 555 horsepower. Towing capacity is slightly less than other models at 6,600 pounds, but still very respectable. "Thanks to a bevy of high-tech mechanical bits, the BMW X5 M handles better than any midsize crossover SUV has a right to." Beamer's iDrive interface has been vastly improved over the past few years, incorporating a more user-friendly menu and button system. The engine can get rather noisy at higher rpm, a disappointment for the elevated price which keeps it out of the top spot. (www.edmunds.com, www.consumerreports.org)
3. 2010-2011 Porsche Cayenne          New Model MSRP: $60,700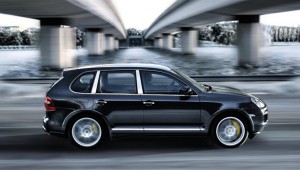 The Cayenne went through a complete model redesign between the 2010 and 2011 model years but both models are just as impressive. "In terms of performance and handling, the Porsche Cayenne fully lives up to its Porsche heritage. Even with its massive heft, the Cayenne displays remarkable agility." Powered by a turbocharged 4.8L V8, it can dish out 550 horsepower and 553 lb-ft. of torque. Towing capacity can reach 7,700 pounds when properly equipped but cargo space is not up to par with competitors. As always with Porsche, there are a bevy of option choices. Just don't go too hog-wild with them because they can run the price up in a real big hurry. (www.edmunds.com, www.consumerreports.org, www.motortrend.com)
4. 2010-2011 Audi Q7          New Model MSRP: $61,000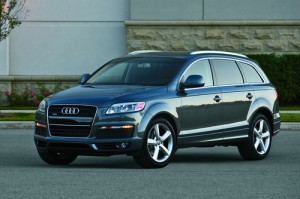 Power-hungry buyers will want to look elsewhere as the 4.2L V8 doesn't quite stack up with the above models. However, if you're looking for adequate power that can still tow up to 6,600 pounds properly equipped and one of the best looking interior cabins available, you'll want to seriously consider the Q7. "With its sharp looks and AWD system, is better suited for navigating slippery pavement in inclement weather than for tackling a muddy trail." Options are plentiful but the Bose stereo system is a must have! The luxury package is the top of the line and includes everything but a dishwasher. Don't look for bigger passengers to be very comfortable in the cramped third-row seat. (www.edmunds.com, www.consumerreports.org)
Search used cars for sale and find the best deals near you at iSeeCars.com.
To get a FREE iSeeCars VIN Report for a car, click here.