Not everyone makes enough money to own a full-blown six-figure luxury car. In fact, most people never get the chance to drive in mid-level luxury. Thankfully, there is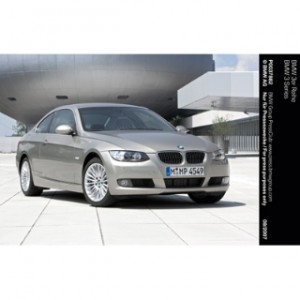 always the entry-level luxury sedan. They're comparably priced with most full-size regular sedans and give the owner a feeling of accomplishment to be driving in such grandeur. Two of the top vehicles in this class are the BMW 3 Series and the Mercedes Benz C-Class. Let's take a look through all the top reviews on Edmunds, Consumer Reports, Car and Driver, and Motor Trend, and see how they stack up against each other.
Powertrain: Both have available AWD and come standard with a 3.0L 6-cylinder engine; the BMW's is an inline-6 compared to the Benz's V6. The engine upgrades are where you see the difference in these two. The Benz offers a 6.2L V8 that can rocket it to 451 hp. BMW offers an upgrade by turbocharging the 3.0L, but the horsepower will never touch the Benz's V8. Gas mileage is negligible as both 6-cylinders are rated near 18/26 mpg (city/highway). BMW chose a six-speed transmission with paddle shifters while Mercedes went with a 7-speed manual and six-speed automatic.
Winner: Mercedes Benz C-Class
Braking/Safety/Handling: Both are rated at four stars for frontal collision and five stars for all other collision tests, and both come standard with anti-lock brakes, stability control, and airbags galore. Both also offer extended braking features such as brake drying and traction control. The 3 Series convertible received only a score of Marginal from the IIHS, but Mercedes lacks the option for a convertible altogether. Steering and handling on both are extremely precise.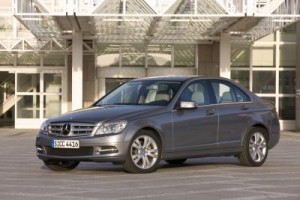 Winner: Tie
Cargo/Hauling: The 3 Series has an option for a wagon which would increase cargo space to 61 cubic feet. That's monstrous compared to the C-Class's 12.4 cubic-foot trunk. Families may not like the Benz either, as the rear bucket seats are not very child-car-seat friendly. The one drawback to the 3 Series is a lack of headroom in the rear seat, which could be a problem for taller passengers.
Winner: BMW 3 Series
Comfort/Interior: Both are luxury automobiles so expect a luxurious interior no matter which you choose. The C-Class's interior is elegant and beautifully crafted, employing a two-tone color scheme and wood trim that provides a homely feel. The 3 Series utilizes exceptional building materials and adequate roominess up front, even for larger passengers. Its seats are comfortable and supportive even in base models, but the convertibles heat-reflective leather is a stroke of genius.
Winner: BMW 3 Series
Amenities/Options: The 3 Series comes in 13 different styles, thanks to its numerous body style options. Where Mercedes opted to stick with a sedan model only, BMW offers the 3 Series in sedan, coupe, wagon, and convertible. Both models carry more technological features and user-friendly options than you could shake a stick at. Some highlights for the Beamer are front and rear parking assist, rear window shades, and a Logic 7 surround-sound audio system. The Benz adds front memory seats, a rearview camera, and a Harman Kardon surround-sound stereo. It may be BMW's iDrive interface that gives it the edge in this category.
Winner: BMW 3 Series
Value for the $: MSRP on both base models is very tight with the BMW at $33,150 and the Mercedes at $33,600. If you're looking for body style options, go with the BMW, just be careful because a fully-loaded convertible can jack the MSRP up to $51,200. That's a shade under the $57,350 the Benz tops out at. But if you don't need the available V8 engine in the Mercedes, the most you'll see the MSRP climb to is $39,750.
Winner: If you're happy with limited choices and are looking strictly for the sedan body style, you'll probably be more than satisfied with the Mercedes C-Class. However, if you want tons of options and don't mind a limited engine choice, you can't do much better than the BMW 3 Series. It gets the edge here.
Search used cars for sale and find the best deals near you at iSeeCars.com.
To get a FREE iSeeCars VIN Report for a car, click here.