For those who crave luxury, sedans don't get much more luxurious than the 2010-2011 BMW 5 Series and 2010-2011 Mercedes E-Class. There are those who offer more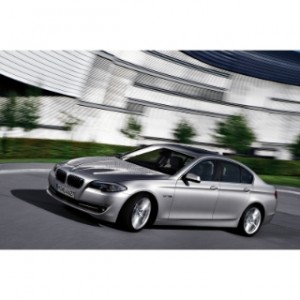 gadgetry and those who offer more speed. But there are few who can match the combination of style, elegance, interior comfort, and grace that these two luxury powerhouses possess. To those who have known this class of vehicle, they are recognized simply by the affectionate nicknames, The Beamer and The Benz. Let's see what the not-always-affectionate testers at Car and Driver, Consumer Reports, Edmunds, and Motor Trend have to say about them, and which stands as the better choice.
Powertrain: A 6-cylinder and 8-cylinder engine are choices in both models, with power in the 6-cylinder going to BMW if you get the turbocharged model (the BMW does offer a non-turbo inline-6 as a third option), and 8-cylinder power going to Mercedes. The BMW 4.8L can reach 360 horses but the monster 6.2L of the Benz pumps out a whopping 518 ponies. That may seem wonderful until you find out that it runs the price up more than $25,000. Fuel efficiency is equal as is the option of AWD. The Mercedes comes equipped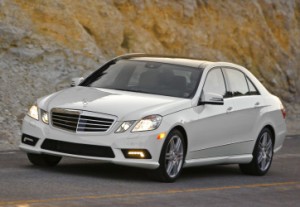 with a seven-speed automatic transmission with manual paddle shifter, and the Beamer offers a manual or automatic trans, both in six-speed.
Winner: BMW 5 Series
Braking/Safety/Handling: Despite the addition of rear-seat airbags and a braking system that performs admirably, the BMW may come up short in this category thanks to its poor crash test ratings. It earned only three out of five stars for driver protection in frontal crash tests. It scored a perfect five stars in all other tests, but who's going to be in the vehicle more than the driver? The Mercedes ups its safety standard by including Attention Assist, a driver drowsiness alerting monitor, and PreSafe, its collision protection system. Handling on both vehicles is just what you'd expect from a luxury automaker.
Winner: Mercedes E-Class
Cargo/Hauling: The E-class is the bigger of the two vehicles and trunk space shows it. It can fit 15.9 cubic feet of material into the trunk, while the BMW can store 14 cubes. The 5 Series does offer a very wide opening for the trunk though, which can make it much easier to safely secure larger items, but the Benz has a power trunk closer which is just plain fun to watch. No extra points for that one though.
Winner: Mercedes E-Class
Comfort/Interior: You will not lack for comfort in either of these models, whether driving or riding. But for overall austerity, the BMW seems to possess more elegance. The Benz cabin is very rigid with sharp corners, dark wood trim, and a monotone color scheme. It can be very bland if stared at for too long. The 5 Series offers ample legroom in both front and rear seating and the cabin is one of the most accommodating in its class.
Winner: BMW 5 Series
Amenities/Options: Okay, they're both luxury vehicles, so we won't bore you by providing the laundry list of interior amenities and toys they seem to have in droves. We will point out that BMW's iDrive interface is remarkably user-friendly and vastly improved over previous year's models. The Benz does offer a 6-disc in-dash CD player, but the 13-speaker premium surround sound system from BMW is just tough to beat.
Winner: BMW 5 Series
Value for the $: The BMW starts off a little lower than the E-Class with an MSRP of $45,950; starting price for the Benz is $48,050. Fully loaded, the BMW has a ceiling of $60,600. That is considerably less than the $85,750 Mercedes is asking for its top-of-the-line E63 AMG at $85,750. Without the huge 6.2L V8, however, the top price for the E-Class is a more modest $58,800.
Winner: Unless you're a HUGE fan of power, paying more than $80K to get the monster V8 from Mercedes seems ridiculous. With a more comfortable interior and premium luxury, the Beamer seems to be the winner here. As long as you can avoid any head-on collisions.
Search used cars for sale and find the best deals near you at iSeeCars.com.
To get a FREE iSeeCars VIN Report for a car, click here.