After comparing a couple Audi and BMW sedans, we've learned that the similarities between the two manufacturers make it a difficult proposition choosing between them. So, if you're in the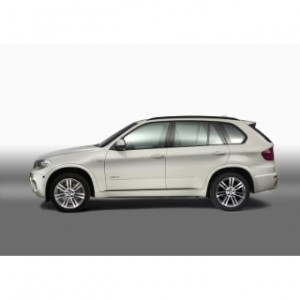 market for a luxury SUV, the smart thing to do would be to compare the 2010-2011 BMW X5 and the 2010-2011 Audi Q7. When it comes to luxury in a sport-utility, it doesn't get a whole lot better than these, so why not start at the top of the line? As usual we've taken only the best information from top researchers Car and Driver, Consumer Reports, Edmunds, and Motor Trend, to give you a breakdown of these two luxury powerhouses.
Powertrain: Six-cylinder power goes to Audi with the 3.6L pushing 280 horses to BMW's 3.0L inline giving 260. On the other hand, both models offer a 6-cylinder turbodiesel and BMW does provide more power and a better fuel economy on that one. The same can be said of the V8 option as Beamer's 4.8L V8 is good for 350 hp and 350 lb-ft. or torque. The Q7's 4.2L V8 matches horsepower at 350 but comes up slightly short on torque, giving 325 lb-ft. All-Wheel Drive is standard on both models.
Winner: BMW X5
Braking/Safety/Handling: Both models come standard with antilock disc brakes, stability control (with rollover sensor), and a bevy of airbags. The Q7 aced all impact tests with a five-star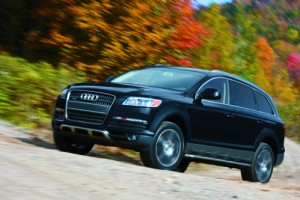 rating. The X5 nearly matched that, but came up short on the passenger front-impact test, earning only four stars. Handling on either model is the best of any SUV in this class. Either vehicle is as comfortable on a rocky, unstable road as they are on a smooth stretch of highway. The X5's steering does seem overly heavy in small areas like parking lots though.
Winner: Audi Q7
Cargo/Hauling: Given the fact that these are both SUVs, cargo space is at a premium and definitely one of the most important categories in this matchup. Overall space goes to the BMW as it is capable of storing up to 75 cubic feet of cargo. The Audi's space is adequate but doesn't quite match the Beamer as its max is 72.5 cubic feet. Towing capacity does go to Audi though, as the Q7 is capable of hauling up to 6,600 lbs. compared to 6,000 lbs. from the X5. The tiebreaker may be in the ease of seating, which does go to Audi since the BMW seats are mounted a little too low to the floor.
Winner: Audi Q7
Comfort/Interior: The second-row seating in both models is adequate but third-row seating is cramped, especially in the X5 which is really only suitable for children in the rear seat. BMW does offer "Comfort" seating, which improves adjustment settings, but the overall material quality, craftsmanship, and austerity goes to Audi.
Winner: Audi Q7
Amenities/Options: As in previous Audi and BMW models we've compared, the Multi-Media Interface (MMI) of Audi is slightly better than BMW's iDrive. Aside from that, amenities and options are fairly matched across the board. With either model you'll have the choice of xenon headlights, parking sensors, keyless entry/ignition, a six-disc CD changer, backup camera, and Warm and Cold Weather packages.
Winner: Tie
Value for the $: MSRP on the Audi starts at $46,900 and climbs to $61,000 fully loaded with the V8. The BMW starts slightly higher at $47,600 but the top-end doesn't go quite as high as the Audi as it peaks at $56,300.
Winner: Aside from powertrain, the Audi wins out in nearly every category. It does go higher in price, but price doesn't always signify value. The added price for the Q7 does include a better interior, better safety scores, and a higher towing capacity. Still, this is a very close call and buyers would be well-to-do with either model as both have their benefits.
Search used cars for sale and find the best deals near you at iSeeCars.com.
To get a FREE iSeeCars VIN Report for a car, click here.