With the arrival of summer comes an increased threat of having family and personal activities and possessions jeopardized by thieves bent on their criminal pursuits. It's no surprise that in the latest report of vehicle theft from the National Insurance Crime Bureau, or NICB, that California leads in the dubious tally with eight out of the top 10 cities. In fact, California has been in the top 10 for some time.
Indeed, the Golden State is a hot spot for car theft. Out of 380 metro areas analyzed, California claims the number one spot in terms of auto thefts per capita, along with capturing spots 3-6 and 8-10.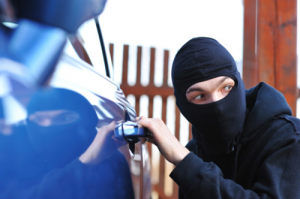 Here are the top 10 cities in the NICB's 2015 Hot Spots report:
Modesto, CA – a total of 4,072 thefts. That's 756.33 thefts per 100,000 residents.
Albuquerque, NM – a total of 6,657 thefts. That's 733.71 thefts per 100,000 residents.
Bakersfield, CA – a total of 6,000 thefts – 680.14 thefts per 100,000 residents.
Salinas, CA – a total of 2,934 thefts, or 676.20 thefts per 100,000 residents.
San Francisco-Oakland-Hayward, CA – a total of 30,554 thefts, or 656.21 thefts per 100,000 residents.
Stockton-Lodi, CA – a total of 4,656 thefts – 641.23 thefts per 100,000 residents.
Pueblo, CO – a total of 983 thefts, or 600.89 thefts per 100,000 residents.
Merced, CA – a total of 1,605 thefts – 597.87 thefts per 100,000 residents.
Riverside-San Bernardino-Ontario, CA – a total of 25,001 thefts – 556.92 thefts per 100,000 residents.
Vallejo-Fairfield, CA – a total of 2,352 thefts, or 539.34 thefts per 100,000 residents.
Four of these metro areas moved down in rankings relative to their spots in the 2014 NICB report. These are Bakersfield (now in #3 spot, it was #2 in 2014); San Francisco-Oakland-Hayward (from #1 spot in 2014 to #5 in 2015); Stockton (moving to #6 spot this year from #3 in 2014), and Vallejo-Fairfield (moving to #10 spot this year from #7 in 2014).
Six other metro areas moved up in the top 10 ranking in the 2015 report: Modesto is now #1 (it was #5 in last year's report); Albuquerque now claims the #2 spot (it was #12); Salinas is #4 (it was #11); Pueblo is #7 (it was #24); Merced is #8 (it was #21), and Riverside-San Bernardino-Ontario is now #9 (it was #14).
Why does California have so many car thefts per capita? One obvious reason is that California is the most populous state in terms of people and cars. All those vehicles in densely populated metro areas makes them ripe for purloining.
But, as the NICB points out, the car theft report analyzes the metropolitan statistical areas, or MSAs, which often include areas much larger than the cities for which they are named. For example, the top spot of Modesto, CA includes vehicle thefts in the entire county of Stanislaus, not just the city of Modesto.
The NICB says it's also true that an area with a much smaller population and only a moderate number of vehicle thefts can and often does have a higher theft rate than an area with a more significant theft problem and a larger population to absorb it.
There is some good news, though, as overall, vehicle thefts are down dramatically nationwide over the last several years. On the flipside, the reasons thieves make off with vehicles remains the same. The top reason for theft of older cars is for their parts value, while thieves steal newer high-end vehicles to ship them overseas or to sell them to an unsuspecting buyer in the U.S., usually after they've made some attempt to disguise the vehicle, alter its paper trail, change color, wheels, etc.
MSAs at the Bottom of the List
Curious to know which MSAs rank at the bottom of the 2015 NICB Hot Spots report? They are as follows:
#380 – State College, PA – a total of 36 thefts, 22.42 per 100,000 residents
#379 – Salisbury, MD-DE – a total of 92 thefts, 23.27 per 100,000 residents
#378 – Sheboygan, WI – a total of 27 thefts, 23.36 per 100,000 residents
#377 – Ithaca, NY – 26 thefts, 24.78 per 100,000
#376 – Midland, MI – 21 thefts, 25.11 per 100,000
#375 – Altoona, PA – 38 thefts, 30.26 per 100,000
#374 – Glens Falls, NY – 39 thefts, 30.73 per 100,000
#373 – Watertown-Fort Drum, NY – 38 thefts, 32.30 per 100,000
#372 – Kingston, NY – 59 thefts, 32.75 per 100,000
#371 – Harrisonburg, VA – 43 thefts, 32.79 per 100,000
Tips to Prevent Car Theft
There is something you can do to help prevent your car from being stolen. The NICB offers these four tips:
Use common sense. The most basic advice is usually the best approach: lock your car and take your keys with you, close your windows, and park in a well-lit area.
Install a warning device. Called a second layer of protection, warning devices provide an audible and/or visual warning to deter thieves.
Use an immobilizing device. Kill switches and smart keys are just two examples of immobilizing devices to help prevent vehicle theft.
Use a tracking device. Use a GPS device that you install on your vehicle, or a complete telematics service that comes with the vehicle, such as OnStar. Tracking devices automatically alert authorities when a vehicle is stolen and can dramatically improve the likelihood of recovering the vehicle.
See the full report – and check out where your metropolitan statistical area (MSA) ranks by visiting NICB.org.
Search used cars for sale and find the best deals near you at iSeeCars.com.
To get a FREE iSeeCars VIN Report for a car, click here.