If you hate the whole car negotiation process, try CarWoo – get the best price on a new car. With more than 8,500 dealers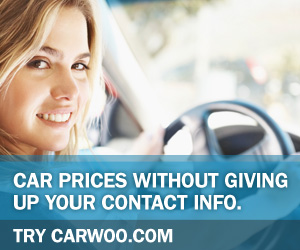 nationwide participating in CarWoo, there's no easier way to find the new car, crossover, SUV, pickup truck or minivan you're after – without all the hassle.
CNN
recently reported in a review of CarWoo that consumers using the site can "take back the upper hand" in negotiating.  Using the site is simple. There's a one-time fee of either $49 or $99, depending on how many dealers consumers want to compete and whether dealers will be able to see each others' bids.  Users can post what they want on the
CarWoo
site and then get price quotes from multiple dealers without having to reveal any personal contact information prior to actual negotiations. Since dealers know you see their prices displayed along with competitive dealers' pricing, they've got more of an incentive to offer you lower pricing. Best of all, the dealers have to stick to their price offer, under the agreement they have with CarWoo.
The New York Times review of the site when it launched in October 2010, hit on a particular consumer annoyance – and a big item in CarWoo's favor. Dealers can't email and call consumers to harass them. Once you find what you want at the price you like, you can make the agreement, print out the details, and bring it to the dealership and pick up the vehicle.
Customers love the service, the stress-free buying process, excellent prices on the cars they want. Many have recommended the site to friends and family and say that they'll definitely be back again the next time they need to buy another vehicle.
If you're in the market for a new car, check out CarWoo and let us know what you think.
Search used cars for sale and find the best deals near you at iSeeCars.com.
To get a FREE iSeeCars VIN Report for a car, click here.