Fans of spirited, affordable driving have long appreciated the value for the money in the Mazda MX-5 Miata roadster. No, it's not for family transportation, unless you count a couple as a family. Yes, it's for a mile-wide grin on your fact driving pleasure, no matter what the road.
While anniversaries come and go, reaching 25 years and still going strong means something, especially if you're talking about a particular automotive brand and model. Here, we take a fondly reminiscent look at 25 years of the Mazda MX-5 Miata. The good news is that there are many good models available to buy used, so if you're looking for other-than-your-everyday-boring driving, check out a Mazda MX-5 Miata.
Historically speaking, the Miata has something very unique going for it. First debuting at the 1989 Chicago auto show and praised by enthusiasts and consumers alike, the Miata has sold more than 920,000 units by the end of 2013. It's also in the Guinness Book of World Records as the "Best-Selling Two-Seater Sports Car."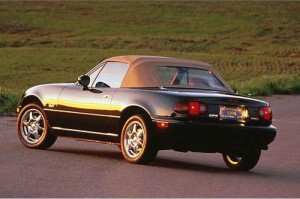 First Generation: 1990-1998
When the Mazda MX-5 Miata hit the scene in 1990, it was a snazzy, affordable convertible version of the stripped-down roadsters so popular from British automakers. The Miata was powered by a 116-horsepower 1.6-liter inline four-cylinder engine that delivered 100 pound-feet of torque. The four-cylinder engine was mated to a five-speed manual transmission or an optional four-speed automatic. With independent double wishbone front and rear and four-wheel disc brakes, the Miata promised, and delivered, driving fun right out of the gate.
In 1994, Mazda introduced the 128-horsepower 1.8-liter four-cylinder engine that produced 110 pound-feet of torque. The first generation Miata featured a manual folding soft top. Nimble driving was assured with the low curb weight of just 2200 pounds.
Pricing on used first generation Mazda MX-5 Miata ranges from $3,900 to $6,891.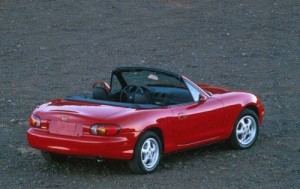 Second Generation: 1999-2004
As if perfection could get any better, Mazda decided to tinker with the MX-5 Miata, cautiously redesigning it for the 1999 model year. Still a hoot to drive, the Miata featured perfect weight distribution and communication from suspension and steering, peppy engine, a glass rear window with defroster, available windblocker and available Bose audio system.
So what if the space inside is tight? Ditto the minuscule trunk. Consumers don't buy the Miata for those things, anyway. The 1.8-liter engine received a bump in horsepower to 140 for 1999. There was also a 10th anniversary model that included a six-speed manual transmission, Torsen limited slip differential and retuned suspension with Bilstein shocks. In 2004, Mazda introduced a high-performance Mazdaspeed Miata powered by a 178-horsepower turbocharged 1.8-liter inline four-cylinder engine.
As for what used prices are for the second-generation Mazda MX-5 Miata, look for them in the range of $5,450-$7,429 for a 1999 to $6,000-$8,995 for a 2001 and from $6,948-$11,980 for a 2003.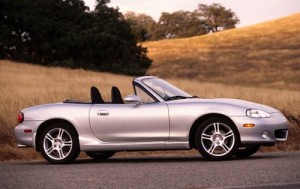 Third Generation: 2005-present
For its third-generation debut, the Mazda MX-5 Miata boasted a 170-horsepower 2.0-liter inline four-cylinder engine delivering 140 pound-feet of torque. A five-speed manual transmission was standard on base models, while more upscale Club and Grand Touring models came with a six-speed manual standard and six-speed automatic as an option.
A manual folding soft top or power-operated hardtop was available. Mazda updated the Miata's rear suspension in 2006 to a multilink design for better ride and handling.
You may be able to find a 2005 Mazda MX-5 Miata for around $11,588, while a 2006 Grand Touring could run around $9,889. A 2013 Club is in the vicinity of $21,495-$24,994.
Anyone for a little MX-5 Miata zoom-zoom?
Search used cars for sale and find the best deals near you at iSeeCars.com.
To get a FREE iSeeCars VIN Report for a car, click here.