The brilliant colored leaves that blow and scatter on the streets and roadways are the first visible signal of the change of season from summer to autumn. But they're also a reminder that driving habits need to be adjusted to take into account changing conditions that affect safety.
Here are some safe driving tips to remember this fall.
Leaves Can Be Slippery – The magenta, yellow, vivid red and orange leaves covering the roads may be great for fall color tours and photography, but they're also often wet, contributing to a safety hazard. Since wet leaves can be as slippery as ice, exercise as much caution driving through them as dealing with ice. In addition, piles of leaves on or alongside the road can hide other hazards. It's best to steer clear of them.
Watch Out for Kids – With school back in session, be prepared for children coming and going to school, playing around near or in the streets. Even with parental reminders, kids will be kids, and playing a game of tag or talking with friends sometimes means they're not paying attention to cars and vehicles. Be especially cautious driving in school zones and watch for school buses making frequent stops. Keep in mind that drivers on both sides of the road must remain at a complete stop while the school bus lights are flashing. This is the law in most jurisdictions, except for divided highways.
Beware Blinding Sun – In autumn, sunrise comes later and later and sunset arrives progressively earlier. During the fewer daylight hours, the sun starts hanging lower in the sky. This can be blinding to drivers. Best defense is to adjust your visors, wear good sunglasses and keep your windshield clean to prevent glare that accumulated dirt amplifies. You might also alter your schedule or route to drive during times when the sun is either lower or higher or in a different direction so the sun won't be shining directly into your eyes.
Keep an Eye Out for Animals, Pedestrians and Cyclists – It isn't only kids you need to watch out for on or near the roads during fall. Animals, especially deer, are prone to dart into the roadway unexpectedly, most often at dawn and dusk. Pedestrians out for a walk or jog, and cyclists getting in a stint can be other roadway hazards. Be watchful and drive accordingly.
Be Alert for Fog and Rain – Accompanying the dip in temperatures in fall are fog and rain, both of which are safety hazards drivers must deal with. Reduce speed and leave greater space between your vehicle and the one in front of you so that you have sufficient time to stop when you need to. Use fog lights if your car has them, and be sure headlight beams are on low, not high. Avoid hitting puddles in the rain, but if you cannot safely do so, be cautious when driving through them as hitting them can jerk the steering wheel. Drive slower during the rain to compensate for reduced traction, and watch out for spray from other vehicles that can impair your visibility.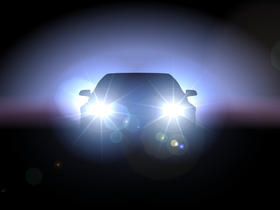 Tend to Your Car's Lights – With less daylight, there's more need to ensure your car's lights are in proper working order so you can see clearly on the road. It's also important to keep the lights clean. If you have plastic covers on your lights, those can become clouded and even pitted over time. Have them cleaned and polished to provide as much light as possible during low light conditions. Besides, once they're cleaned and polished, your car will look newer and well-maintained.
Prepare to Deal with Frost and Ice – Plummeting temperatures are ideal conditions for frost and ice. Where you'll most likely encounter these are early in the morning on overpasses and bridges, the first to be affected by a sharp dip in temperature. This also happens on isolated spots in the roadway, creating the condition known as black ice. Be extra cautious when driving in areas where you suspect frost and ice, but also be aware that you can encounter such areas where you least expect it. The best recommendation is to lower your speed and be ready to react appropriately when you do.
Get Your Car Winter-Ready – From this point on it's a fast forward to winter weather. Now is the time to prepare your car so it's ready to safely navigate wintry conditions. Conduct routine maintenance, including changing the oil in your car and checking all the fluid levels. Also check your tires, repairing and/or replacing them as necessary. Maybe invest in snow tires and have them installed on all four wheels, especially if you live in an area with a lot of annual snow accumulation. Other aspects of getting your car winter-ready include installing new wiper blades, checking windshield wiper fluid, and making sure you have a well-stocked emergency kit on hand as well.
Remember that the best safe driving advice is to be prepared, vigilant and cautious. Reaction time is critical in order to ensure everyone's safety. If you need to slow your speed to accommodate changing weather or other conditions, those few minutes you spend driving safer won't detract from your day. If anything, they'll give you peace of mind knowing that you're being a responsible driver who practices safe driving habits that will benefit not only you, but others on the road as well.
Search used cars for sale and find the best deals near you at iSeeCars.com.
To get a FREE iSeeCars VIN Report for a car, click here.