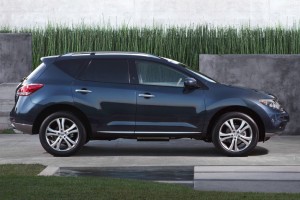 Long considered a must-read publication for discerning shoppers, Consumer Reports provides unbiased, reliable testing of new and used products. When it comes to automotive products, the "Best & Worst" in the publication's 2015 Annual Auto Issue deserve a good look. Here we're checking out the 10 best used SUVs Consumer Reports lists in the following four price categories: less than $10,000, $10,000-$15,000, $15,000-$20,000, and $20,000-$25,000.
Less than $10,000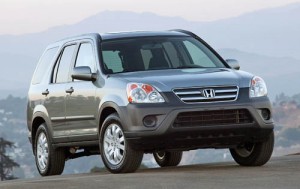 2005 Honda CR-V – A compact, four-door SUV, the 2005 Honda CR-V is one of the 10 best used SUVs in the Consumer Reports list that's available for less than $10,000. The publication put the 2005 Honda CR-V through more than 50 tests in the past, and owner satisfaction with the SUV is high. For the 2005 model year, the CR-V is rated "better" in the following reliability categories: engine major, engine cooling, transmission minor, fuel system, and electrical system. Just one notch below are transmission major, drive system, and transmission minor. In listing the 2005 CR-V as one of its best SUVs, Consumer Reports noted the "reliable CR-V is a can't miss prospect," due to standard electronic security control (ESC) and curtain airbags, and "near-minivan levels of space."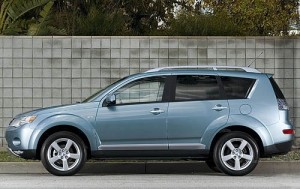 2007 Mitsubishi Outlander – A 2007 redesign made the Mitsubishi Outlander a contender in small SUVs, especially with the "punchy" V6 engine mated with a six-speed automatic transmission. Ride is somewhat on the stiff side. There's generous driver room, seats are firm and supportive, access to second row is good and interior storage is moderate. With all rear seatbacks folded, the Outlander has 33.5 cubic feet of storage space. Consumer Reports notes that the split tailgate is "handy" as the low liftover makes loading easier. Standard safety equipment includes antilock brakes, ESC, side- and head-protection airbags. Excellent government safety scores are another plus.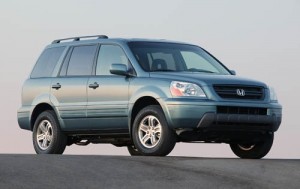 2005 Honda Pilot – The car-based 2005 Honda Pilot manages to combine the best of a station wagon, minivan and SUV in a single vehicle. Delivering "spirited" performance and "respectable" fuel economy, the Pilot is also comfortable, roomy, has seating for eight, and the split third-row seat neatly folds into the floor. Editors especially liked the smooth V6 acceleration and carlike ride. The three-row 2005 Honda Pilot has excellent government safety ratings and actually improved in crash test ratings by the Insurance Institute for Highway Safety (IIHS) due to slight frame changes that Honda made.
$10,000-$15,000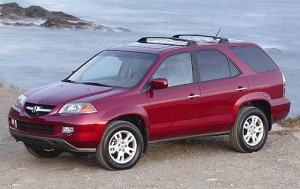 2005-2006 Acura MDX – The more upscale version of the Honda Pilot, the 2005-2006 Acura MDX has long been a Consumer Reports favorite. Editors herald its "strong powertrain, independent suspension, and standard all-wheel drive." Other highlights include the quiet and well-appointed cabin and good to better reliability in all major categories. For a family-friendly vehicle that seats seven and can haul a serious amount of cargo, the MDX is "the standard for three-row crossover SUVs."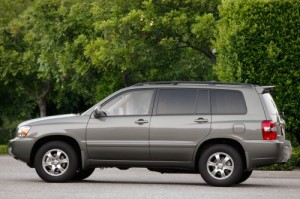 2005-2007 Toyota Highlander V6 – The midsize, car-based SUV is roomier and less expensive than the Lexus RX, and for 2005-2007, the Toyota Highlander V6 has "better" reliability for all three model years, with the exception of one mid-range score in 2007 for engine major. The Highlander V6 is roomy, quiet, and comfortable to drive and boasts excellent safety scores. Consumer Reports calls the Highlander V6 "rock-solid reliable."
$15,000-$20,000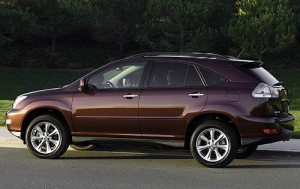 2006-2008 Lexus RX – With its sound handling, firm and supportive front seats, the five-passenger luxury SUV Lexus RX for 2006-2008 is "opulent and practical" for family duties. Reliability has been very good for this vehicle, and safety scores are also high. In its notation of the best used SUVs, Consumer Reports hails the RX for its plush seats, luxury ride and "almost-never-leaves-you-stranded reliability." The available Lexus RX Hybrid delivers 23 mpg plus overall.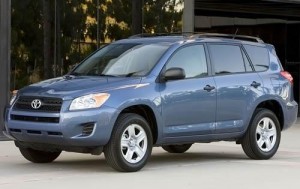 2009-2011 Toyota RAV4 – Carlike agility, comfortable ride, excellent brakes, easy access, good fuel economy and available third-row seat (although suitable only for small children) are pluses for the 2009-2011 Toyota RAV4 compact SUV. Rare among small SUVs, the RAV4 offers an available V6 engine. The publication calls the RAV4 a "budget hot rod."
$20,000-$25,000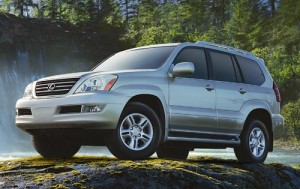 2006-2007 Lexus GX – It's described as "a rock climber in a tux," and that's not all Consumer Reports has to say about the 2006-2007 Lexus GX luxury SUV. The GX, which shares a platform with the Toyota 4Runner, is a competent off-road vehicle with full-time 4WD, a hill-descent feature and a system that prevents the SUV from rolling backwards during steep ascents.
2011-2012 Nissan Murano – Another long-time favorite of the publication, the 2011-2012 Nissan Murano boasts secure handling and a richly-appointed interior. What's not to like for families looking for an affordable, comfortable SUV? Controls are user-friendly, the back seat is spacious, and the steering is precise. Cargo room is a bit less than some competitors, though, and rear visibility is somewhat compromised.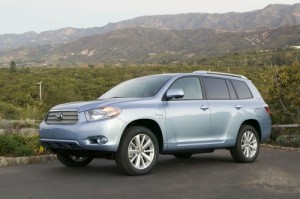 2009 Toyota Highlander Hybrid – In hybrid form, the midsize, car-based 2009 Toyota Highlander SUV is roomy in three rows and delivers compact-car fuel economy and refinement that's almost Lexus-like but at a price that's considerably less expensive than its Lexus RX sibling. The hybrid powertrain is seamless and the ride is quite quiet, especially for a hybrid.
What should you do with this list? Consider it a good start on finding a reliable, safe, roomy and feature-laden used SUV. Whatever your purpose, whether it's transporting the family, hauling business and/or recreational items, or cruising the highway or exploring off-road destinations, there's certainly something here to fill your needs.
Be aware, however, that each used vehicle has to be taken on its own. That means pay special attention to individual vehicle history reports, go for a test drive, ask all the right questions, and strike your best deal. In the end, the only used SUV that makes perfect sense for you is the one that you'll be most satisfied with.
Search used cars for sale and find the best deals near you at iSeeCars.com.
To get a FREE iSeeCars VIN Report for a car, click here.